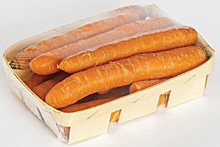 A new certified compostable cling film for fresh-food packaging
publié le dimanche 31 mai 2020
BASF and Fabbri Group have developed a sustainable solution for cling film used in fresh-food packaging: Based on BASF's certified compostable ecovio®, Fabbri Group produces the highly transparent stretch film Nature Fresh.
Meat, seafood as well as fruit and vegetables can be wrapped manually or with automatic packaging equipment. Industrial stretch packaging is also possible. It is the first certified compostable cling film that combines optimal breathability for an extended shelf life of fresh food with high transparency and excellent mechanical properties for automatic packaging as wrapper. Nature Fresh is food-contact approved according to US and European standards.
With this property profile, the film helps to keep food fresh for a longer period of time when compared to polyvinyl chloride (PVC) alternatives used for cling film such as polyethylene (PE). As a consequence, the greenhouse gas emissions originating from food that is produced and distributed – but ultimately wasted – can be reduced. After usage Nature Fresh can be composted together with any food waste in home compost or industrial compost according to national legislation. It thus enables organic recycling and helps closing the nutrient loop towards a Circular Economy.
Part of 648 issue – May 20. All rights reserved except agreement written by Emballage Digest or mention of the magazine