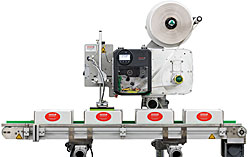 A new generation of labeling machines
publié le samedi 29 février 2020
Novexx Solutions presents the XPA 934 printing and application system, the first model in a new family.
Particularly compact (weight less than 30 kg), the XPA 934 is easy to use with IoT connectivity and maintenance without tools (picture). Ribbon and label material can be inserted in less than a minute.
Ixapack's Selvex automatic labeling machines allow to label the products above, below and on the sides at the same time, with two types of format (label width): 20 to 110 mm for the HP 110, and 20 to 220mm for the HP 220.
The CDA Ninon Mix can apply up to 5 labels with a labeling capacity of up to 60 products / minute depending on the packaging (square, cylindrical, oval or conical).
The Albagnac Altar wine bottle labeling machine has a new reprogrammable electric cam crimping system that makes it easy to change capsules.
Part of 645 issue – February 20. All rights reserved except agreement written by Emballage Digest or mention of the magazine