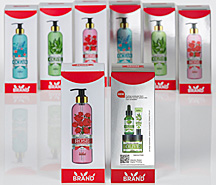 A new partnership to decorate folding cartons
publié le mardi 04 février 2020
The dispersion varnishes available to the market currently has two shortcomings when printed by inkjet and UV LED ink; namely a lack of adhesion, scratch resistance (depending on the properties of the varnish), and inadequate print quality.
In any case, blocking out varnish is an appropriate option only for small coding surfaces. If an entire side of a carton is to be individualized, which is one of the goals of genuine late-stage customization, the result was visually unappealing. A large area of the carton lacked gloss, brightness and the side concerned was unprotected.
The alternative use of corona or plasma systems to pre-treat varnished surfaces, in turn, apart from the additional investment, had their own drawbacks relating to flexibility, process reliability and efficiency. Setting up these systems was always a challenge and often subject to errors.
A development project undertaken by Atlantic Zeiser together with the ink experts at Tritron, and Actega – specialist in overprint varnishes, has demonstrated how late-stage brilliant UV LED inkjet printing can be combined with the analogue coating of clear varnish applied to folding cartons. As a result, both costly surface pre-treatment with corona or plasma systems and precise unvarnished areas will no longer be necessary. The three companies have perfectly harmonized the UV LED ink with offset varnish formulations in order to remove completely the limitations of late-stage customization endured by print shops and brand manufacturers alike. The customary protective varnish applied over the offset printing ink also serves as a primer for downline UV LED inkjet printing. The brilliance of the new coding varnish corresponds to conventional dispersion varnishes and it performs equally well when being applied. It produces an unbroken protective surface on the carton that feels no different from the finish produced by other varnishes. The high-resolution print image achieved when the UV LED-curable ink developed by Atlantic Zeiser and Tritron is applied to this coding varnish complies with barcode grading A and offers both excellent adhesion, as measured by the TESA test, and outstanding scratch resistance according to the Erichsen testing methodology. Two prominent pharmaceutical companies and a cosmetics manufacturer are already utilizing the solution pioneered by Atlantic Zeiser, Tritron and Actega.
All rights reserved except agreement written by Emballage Digest or mention of the magazine