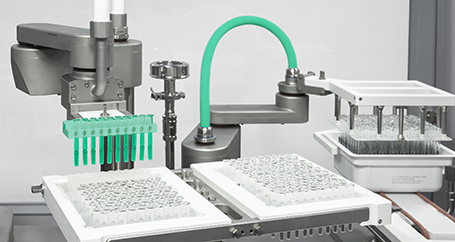 Achema 2022: Syntegon showcases innovative solutions for processing liquid pharmaceuticals
publié le mardi 19 juillet 2022
Abonnez-vous à la revue pour lire la suite de l'article
s'abonner
At this year's Achema in Frankfurt, Syntegon will present new solutions for the filling of liquid pharmaceuticals, promoting the Versynta FFP (Flexible Filling Platform). With the new, modular FFP, the company offers an individually configurable machine for aseptic small batch filling, including high potent and BSL (Bio-Safety Level) pharmaceuticals.
As the first filling platform of its kind worldwide, the Versynta FFP also features an integrated system for automated HEPA filter scans for RABS and isolators. Manufacturers can thus not only achieve significantly faster, reproducible results in real time, but also increase the reliability of their filter integrity tests.
Syntegon's Versynta FFP Small Batch provides additional production flexibility. Especially in connection with highly specialized biotech drugs for small patient groups, easily adaptable filling machines can offer a decisive advantage. The Versynta FFP takes this trend into account: thanks to pre-developed and tested modules, the filling solution can be individually configured and output rates of up to 3,600 vials, syringes or cartridges per hour with simultaneous 100 percent in-process control can be achieved. The Versynta FFP also includes several pharmaceutical handling units: each consists of a four-axis robot that transfers containers from one station to the next without glass-to-glass contact, reducing product loss. Thanks to the small number of format parts, the Versynta FPP also supports quick and easy changeovers.
The Versynta microBatch completes the Versynta portfolio with a versatile solution for micro batch filling in isolators.
Syntegon's isolator expertise is at the heart of another innovation that the company will present for the first time at the Achema: an iRSF system for automated HEPA filter integrity testing in isolators on a Versynta FFP. Syntegon jointly developed the testing solution with InfraSolution, a specialist for technical plant equipment, software applications and robotics. It not only saves time compared to common manual methods, but also ensures safer processes and optimal data integrity. During filter testing, a special robotic arm scans the entire geometry of the isolator surface. Thanks to integrated software, the device can detect any leaks via heat mapping in real time, visualize and document the measured values.
In addition to the systems on display, Syntegon's portfolio includes further solutions for producing and ensuring the quality of liquid pharmaceuticals. Its products range from stand-alone machines to complete solutions, both for laboratory-size and high-performance applications, as well as freeze dryers including a new and patented loading and unloading system and flexible fill-finish machines. Its platforms include inline inspection systems for monitoring individual process steps during filling, and solutions for visual inspection using artificial intelligence. In addition, Syntegon offers bioprocessing systems for active ingredient production, and assembly machines for autoinjectors and pens.
All rights reserved except agreement written by Emballage Digest or mention of the magazine