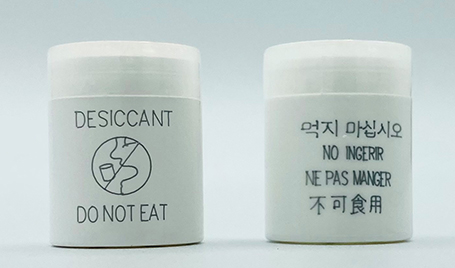 Airnov to showcase its range of healthcare packaging solutions to Indian market
publié le mardi 24 mai 2022
Abonnez-vous à la revue pour lire la suite de l'article
s'abonner
Airnov Healthcare Packaging, a global leader in controlled atmosphere packaging, will be presenting a large portfolio of solutions available to customers in India at the upcoming Innopack Pharma Confex, scheduled to take place in Mumbai on June 9-10. At the event, the company will be showcasing a wide range of products, many of which offering sustainability gains to packaging producers.
These include sustainable rimless packets which are welded together using uncoated Tyvek® and offer greater moisture absorbing capacity, while at the same time cutting raw materials usage by 25%. Meanwhile, Airnov's laser-marked desiccant canisters reduce risk of contamination while eliminating the need for print and paper labels.
Also being showcased at Innopack are a range of desiccant washers and EQius™ Equilibrium RH Stabilizers, the latter being sorbent products which maintain a specific moisture level in pharmaceutical packaging.
Visitors to Innopack will additionally be able to explore Airnov's latest innovation in its vial range of products in the form of HAT®-IN, designed to protect diagnostic and nutraceutical products. The vial, which is easily integrated into automated filling lines, utilizes and integrates the company's advanced desiccant polymer (ADP) technology to provide a high moisture barrier, as well as excellent moisture adsorption.
All rights reserved except agreement written by Emballage Digest or mention of the magazine