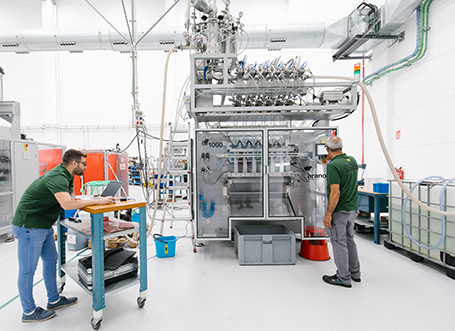 Aranow inaugurates a new headquarter and increases production capacity by 80%
publié le vendredi 10 juin 2022
Abonnez-vous à la revue pour lire la suite de l'article
s'abonner
Aranow, company specialising in the manufacture of single-dose packaging machinery, strengthens their expansion plans with the launch of its new corporate image and the inauguration of a 4,100m2 production centre located in Polinyà (25 km from Barcelona).
"Through this decision, we aim to consolidate our leadership position. The new warehouse allows the company's production capacity to increase by more than 80%, responding to the worldwide growing market demand, especially in the pharmaceutical and food sectors," says Jan Molina, CEO of Aranow.
The newly refurbished facilities have 25 – 30 units for equipment under construction, as well as an electrical workshop, product testing laboratories, and FAT rooms (Factory Acceptance Test). The headquarters is equipped with an online production system and tools of the Lean Manufacturing system, with processes that are developed under the philosophy of continuous improvement.
« The new facilities allow us to improve the work environment and services for our employees, attracting and retaining talent, as well as offer a remarkable experience for all our clients and collaborators, » comments Jan Molina.
With a total investment of 1.5 million euros, Aranow strengthens their leading position in single-dose packaging in the worldwide market. The company plans to reach a turnover of 30 million euros in the next four years thanks to this strategic decision. Present on all continents, Aranow also has commercial offices in Thailand, India, and Mexico. The company has recently created the Aranow Innovation Centre in Switzerland, where it will be able to research advanced production techniques and intelligent Industry 4.0 technologies.
All rights reserved except agreement written by Emballage Digest or mention of the magazine