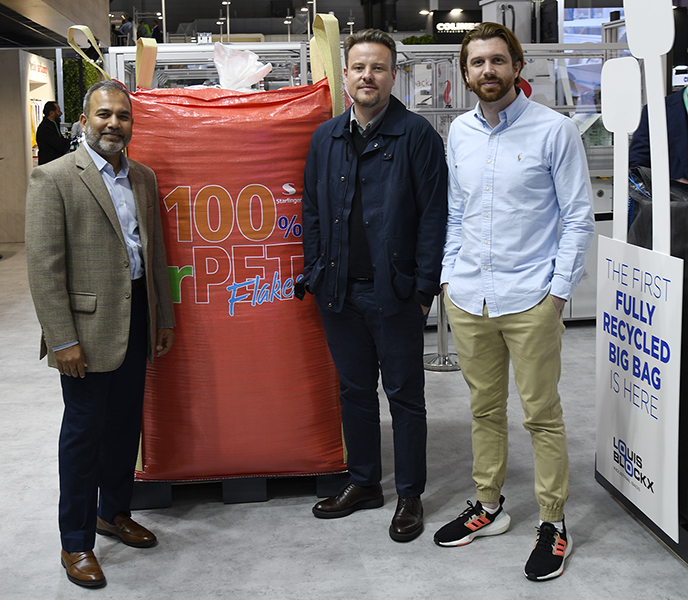 At K 2022, Starlinger focuses on reducing resource consumption
publié le lundi 31 octobre 2022
The most important exhibition for the international plastics industry has been a success for the Vienna-based machine manufacturing company. "This year's K show has been sensational for us. Everybody is happy to get together personally and talk about the developments in the sector after all the restrictions due to the pandemic", said Hermann Adrigan, Head of Sales at Starlinger, summing up the exhibition.
"A lot of customers, among them many long-time business partners, visited us both here at our booth in Düsseldorf as well as in Austria during our Open House in our factory which took place at the same time." The number of deals closed during the exhibition shows that many companies in the sector are willing to invest. "For us, K 2022 equals K 2019 in this respect", confirmed Adrigan.
A main attraction for many customers was the conversion line for AD*STAR woven polypropylene block bottom valve sacks at the Starlinger booth: It produced AD*STAR sacks with a share of 22 % recycled content at a speed of 140 sacks/minute. Also, big bags made of 100 % recycled polypropylene and 100 % recycled PET supplied by Starlinger customers drew a lot of interest. With the "Circular Packaging" concept for big bags initiated in 2019 Starlinger offers a model for a closed packaging loop for packaging producers.
"Sustainability plays a major role in almost all inquiries we receive nowadays", explained Adrigan. "As machine manufacturers we have been putting the reduction of resource consumption – be it energy, be it raw materials – in the central focus of our technical developments for decades. Now, also recycled material can be processed on our lines without loss of quality. Packaging producers know: If you want to produce woven PP or PET sacks in a sustainable way, Starlinger is the place to go."