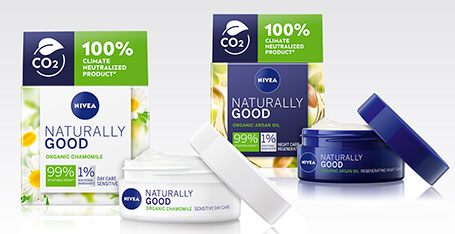 Beiersdorf selects Sabic certified PP for new Nivea packaging
publié le vendredi 30 avril 2021
Sabic, a global leader in the chemical industry, announced that Beiersdorf will innovate the packaging of its world-leading 'Nivea Naturally Good' range of face creams using Sabic's certified renewable polymers. Sabic's bio-based polypropylene (PP) resin, part of its Trucircle™ portfolio, will be used for producing the jars of Beiersdorf's Nivea Naturally Good day and night face creams.
The new Nivea packaging will be phased in at point-of-sale outlets worldwide from June 2021 onwards and make a major contribution to help Beiersdorf reduce its use of fossil-based virgin PP.
The new product is playing into Beiersdorf's ambitious Sustainable Packaging Targets 2025 to reduce fossil-based, virgin plastic for its cosmetic packaging products by 50%. The new sustainable Nivea jars pay into the Sustainability Agenda Care Beyond Skin, by which the company is targeting a significant reduction of its carbon emissions and environmental footprint. The agenda has set three major packaging goals to be achieved by 2025 as compared to 2019: make all of the group's packaging 100% refillable, reusable or recyclable; increase the share of recycled materials in plastic packaging to 30%; and reduce the use of fossil-based virgin plastics by 50%.
Moreover, the new Nivea jar is an outstanding example of successful three-way value chain collaboration, accelerating the time from ideation to the retailer shelves. By bringing Sabic to the table to work together with Berry Global, a long and trusted upstream partner of the brand owner for the production of face care packaging, Beiersdorf managed to advance the project from concept to implementation in just nine months.
All rights reserved except agreement written by Emballage Digest or mention of the magazine