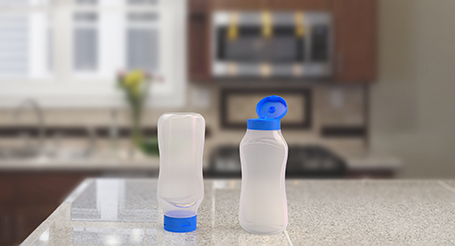 Berry's multilayer bottle brings multiple benefits for sauce producers
publié le jeudi 23 septembre 2021
Berry M&H has launched a new bottle for table sauces and condiments that meets consumer demands for packaging that is both convenient and improves sustainability. The new Mira 475ml is manufactured in polypropylene (PP) and can be recycled after use. In addition, the bottle incorporates an EVOH barrier layer that delivers exceptionally good protection for oxygen sensitive products, providing a long ambient shelf life that also helps to minimise food waste.
For food manufacturers, the bottle has the versatility to handle both cold and hot filling (up to 95°C) and is fully compliant with modern food legislation, while its wide neck makes it easy to fill on existing filling lines. It is available with a variety of closures, with and without valve dispensing, all of which are produced by Berry M&H for a complete single-source pack solution. The curved design with fine line details around the neck provides an attractive and appealing appearance on-shelf, and to create individual brand identity, the Mira can be specified in a range of colours.
The lightweight bottle and top-down format provide safe and easy handling for consumers and the availability of various closures enables a solution to be found to meet the particular characteristics of different products for accurate and controlled dispensing.
"The Mira bottle is another important addition to our range, extending the wide choice of designs and sizes we have available and enabling us to tailor solutions to the precise needs of individual customers," comments Caroline Smith, Area Sales Manager, Berry M&H.
All rights reserved except agreement written by Emballage Digest or mention of the magazine