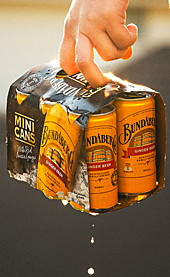 Bundaberg Brewed Drinks launches first-ever canning line
publié le mardi 06 octobre 2020
The past five years have been a success story for the Craftmate C: since it was premiered at the BrauBeviale 2015, 80 beverage producers have opted for this compact-size can filler from Krones – the majority of them craft breweries in North America. But the Craftmate proves persuasive in the rest of the world, too: Krones has, for instance, delivered six of these machines to Australia in the last three years.
That the Craftmate is ideally suited not only for craft beer but for all other types of craft drinks is vividly demonstrated by Bundaberg Brewed Drinks. The Australian family firm produces premium soft drinks like ginger beer, and exports these to more than 60 countries. It fills them into the iconic amber glass stubby bottles, and now also cans them in-house. For this purpose, the company has invested in a canning line, for which Krones supplied the entire wet end: besides the line's heart, a Craftmate C, a Canmatic empty-can inspector, a Contiflow mixer, two Checkmat inspection systems, a LinaTherm warmer and a Linadry drier are also included in the scope of delivery.
Following several years of toll packing, Bundaberg Brewed Drinks deliberately opted for a canning line of their own: "Having canning technology in-house is an important step for the business, allowing us to offer a much more versatile pack format that consumers have been asking us for," to quote CEO John McLean. The Craftmate from Krones won Bundaberg over – not only by its technical features but also in terms of price-performance ratio, production quality and safety standards. The line fills 15,000 cans an hour and handles both 250-millilitre standard cans and a 200-millilitre slim format. Thanks to this combination, Bundaberg Brewed Drinks will be looking to toll pack cans for other craft brewers, too.
The new machines arrived in Australia in December 2019, and by mid-January were filling the first sales-quality drinks. In the meantime, Bundaberg has already produced over 3.5 million containers on its new line. These can currently be bought in Australia, New Zealand and the USA. And even though the coronavirus pandemic is at present changing the entire world, John McLean sees an opportunity here for selling premium products in cans.
All rights reserved except agreement written by Emballage Digest or mention of the magazine