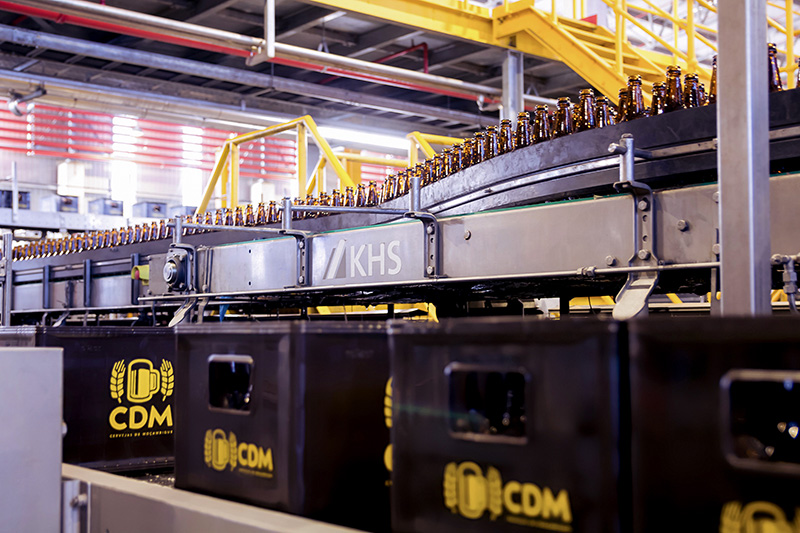 Cervejas de Moçambique realizes a returnable glass line in Africa with KHS
publié le mercredi 18 janvier 2023
In 2011, Cervejas de Moçambique (CDM) launched one of the first commercial cassava beers in Africa to market under the brand name of Impala. 70% of the starch used comes from the root vegetable instead of from wheat or barley malt. Thanks to a lower tax rate, the new beer can be sold for about 30% less than the usual price. With more than a million bottles sold per annum, this has helped to make Impala a huge success – one that has long been emulated in a number of other African countries and by various breweries. With a turnover of around €300 million (in 2021), the brewery now largely owned by the AB InBev Group is by far the largest local beer producer and market leader.
This status has been earned by CDM's consistent strategy of growth and continuous increase in capacity. Not so long ago in 2010 a third factory was opened in Nampula in the north of the country in addition to the existing facilities in the capital Maputo and Beira further north up the coast. Just eight years later the foundations were laid for a further greenfield project in Marracuene a few kilometers outside Maputo. Here, production started up with a capacity of 1.6 million hectoliters a year.
The heart of the new location is a returnable glass line from KHS, on which up to 80,000 550-milliliter bottles per hour can be filled – the format that accounts for about 95% of total sales. This line capacity is extremely high for the African continent," explains Tobias Zeimentz, who as key account manager at KHS is responsible for customer AB InBev the world over. "In this region it's rare to find more than 40,000 bottles per hour being processed."
Following an investment of about €150 million the "biggest and most modern brewery in Mozambique and the whole of Africa could finally be ceremoniously opened," adds CDM CEO Tomaz Salomao.
At CDM in Mozambique AB InBev has had two modular KHS labelers installed for the first time the world over. The machines can be equipped with various stations that are changed over within a very short time indeed as they are easily docked and undocked using a lifting truck. This flexibility gives CDM greater future security, enabling it to react quickly and easily to new trends and dynamic market developments. Impressive performance figures of just 0.054% faulty labels and an efficiency of over 99% prove doubly convincing when it comes to the high quality of KHS labeling technology.