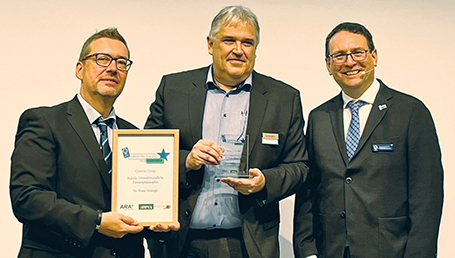 Coveris' sustainability initiative wins Green Star Packaging Award
publié le vendredi 07 octobre 2022
Abonnez-vous à la revue pour lire la suite de l'article
s'abonner
On Thursday 29th September 2022, Coveris won the prestigious Green Packaging Star Award in the Environmentally Friendly Corporate Strategy category. The packaging company has built its entire sustainability strategy around its vision of No Waste – no product waste, no packaging waste, and no operational waste – focusing extensively on resource conservation.
Coveris already produces packaging incorporating recycled content, material-saving lightweight solutions, as well as a wide range of easy recyclable monomaterials. Additionally, the packaging manufacturer is aiming to run all production sites with renewable energy.
Coveris' relentless commitment to minimising the environmental impact of its products is visible through its latest product innovations. Recognising this, two of Coveris' packaging technologies were also finalists in this year's Green Packaging Star Awards: PaperBarrier Seal and MonoFlex.
The sustainable PaperBarrier Seal solution was shortlisted in the Environmentally Friendly Product category. Launched in 2021, this innovative packaging is a fully recyclable high-performance packaging that provides a barrier against moisture, oxygen, grease and mineral oil.To counteract multilayer packaging's recycling problem, Coveris developed the MonoFlex product line. Made from monomaterial, this packaging is fully recyclable, without compromising on quality. This product innovation secured a spot among the finalists in the Solution for Food Protection category.
All rights reserved except agreement written by Emballage Digest or mention of the magazine