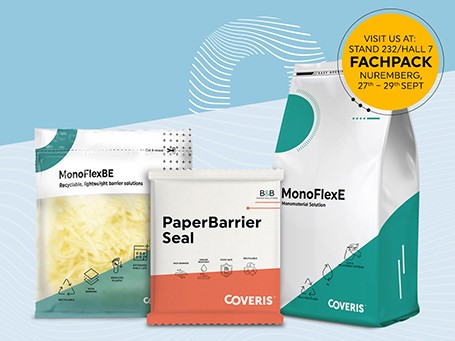 Coveris will showcase new plastic and paper-based packaging at FachPack 2022
publié le lundi 29 août 2022
Abonnez-vous à la revue pour lire la suite de l'article
s'abonner
Coveris Group will be introducing a new range of sustainable innovations supporting its industry-leading No Waste vision at FachPack 2022. Targeting shelf-life extension and packaging waste reduction, Coveris will showcase a comprehensive range of both plastic and paper-based solutions that meet these criteria.
To close the loop, Coveris' innovation power focuses on the development of advanced, high performance packaging designs with recycled content and easy recyclability. One of the key innovations at FachPack will be the extended CPP Cleancast Films product range for duplex and triplex laminate alternatives on a polypropylene base. The key benefit behind the performance of these cast unoriented polypropylene films is the ability to withstand re-shrinking at high temperatures (0% at 150°C) which makes them an alternative packaging for a wide range of food, pet food and non-food products. Additionally, they support the circular economy through better recyclability.
Increasing recycling and recovery in a circular economy, Coveris will be presenting two new solutions. New wash-off labels, now available with DPG approved security inks, are designed for use with PET and rPET bottles and containers. Compatible with deposit return schemes (DRS), wash-off labels enable maximum clean PET recovery for use in rPET and together with DPG inks where required, support a fully traceable, circular process. The second solution are fully recyclable transportation films with 30% recycled content. Stretch films, including tubes, are made using recycled plastic and energy from renewable sources, offering an efficient and sustainable solution to stabilise up to 900 kg of freight using just 800 grams of film.
Coveris' extended range of recyclable PE and PP MonoFlex films and laminates, including grated cheese packaging, is available in various formats and sizes up to 12 kg and will also be on display. Providing a direct replacement for non-recyclable or difficult-to-recycle plastics, MonoFlex packaging has been developed to maintain product shelf-life, performance, functionality and packaging efficiency.
Visitors at FachPack 2022 can also experience first-hand Coveris' focus on paper-based solutions. Since its introduction in 2021, the PaperBarrier Seal barrier properties have been further developed and extended, offering functionality and product safety while minimising both packaging and product waste. Applicable for a wide range of dry foods and snacks, this development stands out by its special paper coating which enables sealability while remaining fully recyclable in existing paper streams.
All rights reserved except agreement written by Emballage Digest or mention of the magazine