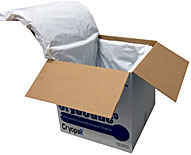 Cryopak introduces new sustainability packaging
publié le mardi 14 avril 2020
Cryopak, a leader in the cold chain packaging industry, is introducing its next entry into an expanding line of ecologically friendly shipping solutions. The Solversa 100% sustainable and recyclable product line is made from post-consumer recycled PET or cotton fibers, and is designed to replace EPS products, foam, and other insulators.
The Solversa line of products have been engineered to mimic the performance of traditional products in this space, and are appropriate for Food & Beverage delivery, Pharmaceuticals, Clinical studies/trials, and any other industry where products require temperature control.
"Producing environmentally-friendly products is an important step in our overall corporate pledge to provide sustainable solutions that are environmentally responsible," said Mark Barakat, General Manager of Cryopak. "I'm very proud of our team, and their ability to help Cryopak lead the way with solutions that protect our environment. Offering validated, eco-friendly innovations that address the needs of our customers are objectives that both our company leadership and our staff are very passionate about".
All rights reserved except agreement written by Emballage Digest or mention of the magazine