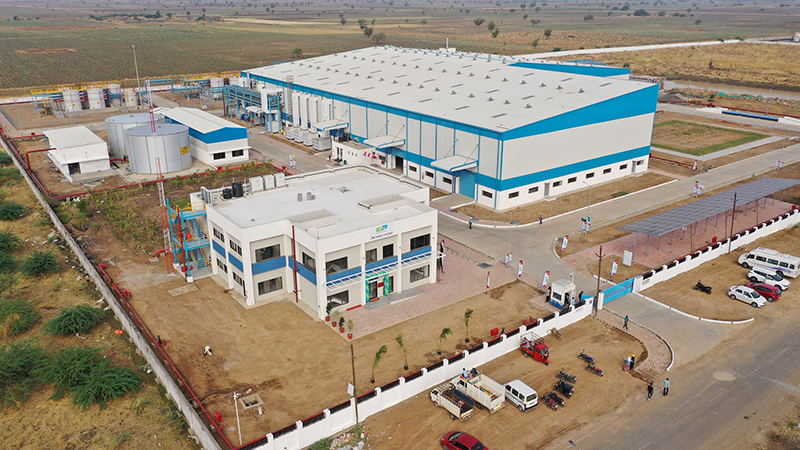 DIC India Inaugurates its new facility in Gujarat
publié le vendredi 24 mars 2023
The leading manufacturer of printing inks, innovative packaging solutions, and allied material in the country, DIC India, part of DIC group, Global Leaders in printing and packaging Inks, inaugurated its advanced and latest Toluene free plant 'Optima' for Liquid Ink manufacturing at Saykha in Bharuch district, Gujarat.
Spread across a vast area of 92,500sqm, the plant has the capacity to manufacture over 10,000+ Tonnes of TF, KF/NTNK (Toluene Free/ Ketone Free) liquid inks in two shifts in phase -I. The plant will be further augmented to produce value added and specialty products for domestic and export markets.
Set up with a total investment of INR 1100 Mn for phase -I the new plant will provide direct employment to more than 100 associates with the aim to cater to the growing demand of toluene free and ketone free based inks in the country.
With this new plant, DIC India will now have an expanded footprint in India. Its other four plants are at Kolkata, Uttar Pradesh, Gujarat (Ahmedabad), Karnataka.
Established at the center of the chemical hub of India, the strategic location gives the company close access to the Northern and Western markets that drive majority of the demand in the segment. The plant boasts of a bulk line manufacturing facility for supplying standard and specialty TF, KF/NTNK inks.
Constructed with care, the plant, called Optima plant is laden with latest technological features to cater to the growing demand in the country at present. The plant has also been designed to accommodate future expansion needs of the company. The Optima plant will also work towards strengthening the company's business in export markets.
"India is a strategic market for us and our long-standing journey in the country is a testimony to the success we have achieved over the years. The market is witnessing increased demand for technological superior and specialty printing inks for packaging. The inauguration of the new facility is another stepping stone for the company's future expansion plans here. The new plant set up has been constructed using leading technological features to modernize as well as to increase production efficiencies. This plant is a completely Toluene free plant for DIC India. We are optimistic that the manufacturing facility will help in catering to both domestic as well as international demand and expand our footprint in India," said Manish Bhatia, MD & CEO at DIC India.
Out of the plant's 92,500 sqm, 45,000sqm has already been constructed under Phase 1. The area will be used for consolidation of different plants and different types of products of DIC Indian Operations.
DIC is in the process of getting green certification for the site. This will be probably the first plant in India to achieve this accreditation. Optima site, as the plant is called produced TF and KF products are also compliance with international regulations.