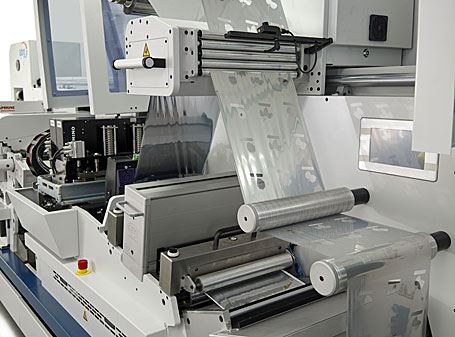 Domino's K600i embellishment solution to avoid the finishing bottleneck
publié le vendredi 13 mars 2020
At Labelexpo Europe 2019, Domino Digital Printing Solutions gave everyone a sneak preview of its next generation digital embellishment technology prior to its official launch in April 2020. Jim Orford, Domino's K600i Product Manager, highlights how this latest innovative development from Domino enables label printers to adopt full digital production.
He says, "Digital printing has been around for some time, but this truly revolutionises the label print and finishing process. This now takes finishing into the digital age, removing what many of our customers see as the production efficiency bottleneck, offering greater efficiency to produce short and medium run, added-value embellished labels quickly, and with significantly reduced man hours and material waste".
Using Domino's recently launched unique UV-curable clear ink, and without a printing plate or screen in site, watch the modular K600i dual bar printers apply cold-foil adhesive and spot varnish to create a range of personalized and digitally embellished gin and craft beer labels. Printing multiple SKUs with instantaneous changeover between jobs and without stopping the line, the infamous finishing bottleneck is eliminated with minimal set-up time and virtually no waste.
Jim continues, "For cold foil applications, just a single print bar is required with print speeds of up to 75m/minute. The dual bar K600i system is used for printing spot varnish at speeds of up to 50m/minute, and can also be used to digitally print high opacity white, providing a cost-effective alternative to the more expensive and labor-intensive traditional screen printing".
"As brand owners continue to place more emphasis on product appearance to add value to their products, this digital embellishment technology enables label converters to streamline their manufacturing process and improve production efficiency, allowing them to gain all the benefits of digital in the finishing process" concludes Jim.
All rights reserved except agreement written by Emballage Digest or mention of the magazine