Dropper: Virospack unveils a new R&D Project
publié le mercredi 12 avril 2023
Virospack is committed to a R&D project, developing the first completely mono-material dropper on the market. The company is talking about a dropper made of polypropylene (PP), which can be easily recycled to 100%.

This development, for which Virospack has got an economic subsidy from the CDTI -Center for Industrial Technological Development -, will allow to obtain a dropper entirely manufactured of a single material, which, in addition, will offer high compatibility with any kind of cosmetic formulation.
The general objective of this project is to design, develop and manufacture a new prototype of a push-button dropper, all mono-material, made from polymeric polypropylene (PP) materials.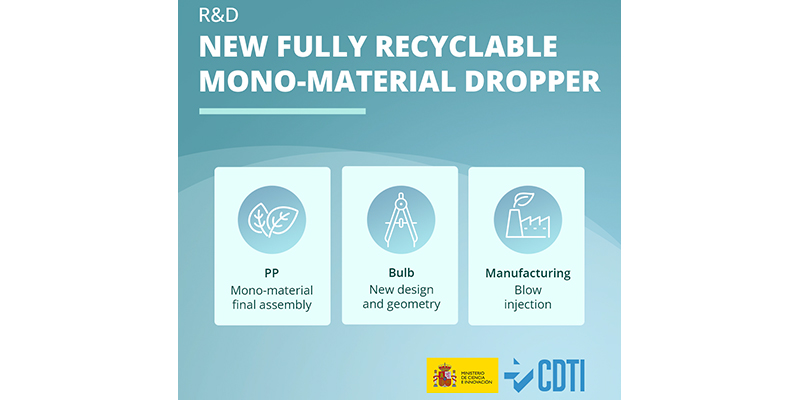 With this project, a sustainable solution is sought within the packaging cosmetic sector, since current droppers have a low recycling rate since they must be dismantled before, separating the rubber bulb from the PP cap, and the glass pipette. It means an additional task that many users are not willing to perform.
The technological challenges to achieve these objectives are framed in three different aspects, given the complexity involved in R&D activities: formulation of the bulb composition; design of the new bulb, the new geometry must ensure precise dosage, tightness, ergonomics, and functionality; and the manufacturing process of the new bulb.
Indeed, the production of the new dropper includes a bulb prototype that will be manufactured from a new process based on the principle of injection by blow molding (IBM), being the first time that this type of production is used with PP material. And the first time too, for elements as small as bulbs. This is a challenge for the company.