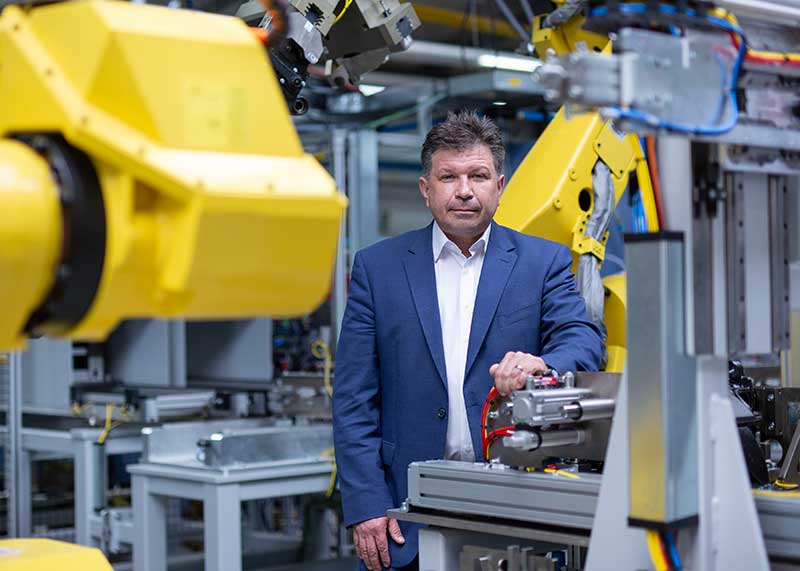 German robotics and automation market expects all-time high
posted Monday 19 June 2023
According VDMA, the German robotics and automation sector is on track for another record year: the industry is forecasting a 13% increase in sales to 16.2 billion euros in 2023. In 2022, companies already recorded a 5% sales increase to 14.3 billion euros.
« The robotics and automation industry is on course for growth, » says Frank Konrad (picture), Chairman of VDMA Robotics + Automation. « The previous turnover record of 15.1 billion euros from 2018 is likely to be significantly exceeded in 2023 with expected sales of 16.2 billion euros. Currently, the market situation is characterized by full order books. During the pandemic, suppliers built up large order backlogs, which are now being gradually worked off as bottlenecks in the supply chains ease. This means our industry is finally leaving the pandemic behind. »
The subsectors of robotics and automation developed positively in 2022:
Machine Vision grew by 11%, with industry sales reaching 3.4 billion euros. Integrated Assembly Solutions recorded a 5% increase in sales to €7.4 billion. Robotics sales rose by 1% to 3.5 billion euros.
In 2023, Machine Vision forecasts an increase of 7%, corresponding to sales of 3.6 billion euros. In Integrated Assembly Solutions, the industry expects sales to increase by 17% to 8.7 billion euros. In Robotics, growth of 12% to 3.9 billion euros is expected.
According to the International Federation of Robotics (IFR), around half a million industrial robots were installed worldwide in 2022 – about twice as many as seven years earlier. The international automation race is reflected in the robot density of national economies: with 322 units per 10,000 employees in the manufacturing industry, China already overtook the United States (274 units) in 2021. According to a current forecast by VDMA Robotics + Automation, China will surpass Germany in terms of robot density as early as 2023 and thus achieve a higher level of automation. "With regard to the fierce global competition, there is no time to be complacent. We therefore welcome the initiative of Chancellor Olaf Scholz to strengthen robotics and automation in Germany, » says Frank Konrad.