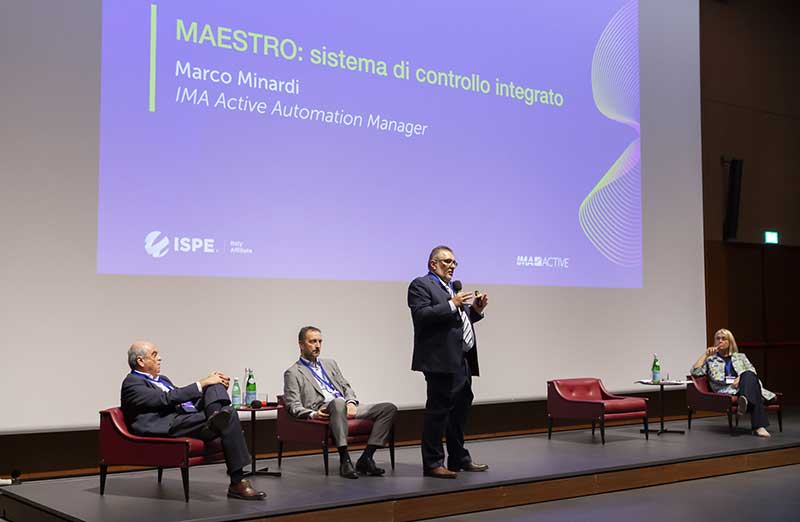 IMA Active presented Maestro at ISPE Summer Night
posted Tuesday 11 July 2023
This year IMA Active is the sponsor of the traditional summer event "ISPE Summer Night" which brings together pharmaceutical professionals, academics and regulatory experts to share experiences, case studies and participate in interactive discussions.
The 2023 edition of the event, which took place on 28 June at the Mudec – Museum of Cultures of Milan, was dedicated to digitization and automation in the pharmaceutical sector: a global priority to innovate and modernize the production and logistics processes of this ever-evolving and rapidly innovating sector. ISPE Summer Night was an opportunity to promote the change of paradigm in drug production. The industries of the sector must increasingly remain competitive on the global market, guaranteeing the availability, efficacy and safety of the products.
New "smart" modes are available today, which allow greater operational flexibility and full modularity in the machine integration, processes, digital solutions and especially people. We get there with new and multidisciplinary perspectives that allow us to design, develop and implement new production systems that bring reliability, quality, competitiveness and sustainability to our industry. An unmissable appointment to reflect on these issues, using the fascinating metaphor of conducting an orchestra.
The metaphor of the orchestra and its conductor is proposed to compare two apparently different spheres: the pharmaceutical production and music. Just as the mechanisms that support the work of an orchestra take into account the personal dynamics that develop internally to obtain a harmonious result, in the same way the production of a tablet needs that each part of the process performs with the best quality and coordinates with the entire production strategy. Just as in music it is necessary for the conductor to orchestrate all the excellent instrumentalists in harmony, similarly in the production of drugs an integrated control system that orchestrates all the production units in synergy is certainly advantageous. The aim is to guarantee systematic control of critical parameters and, ultimately, to ensure the final quality of the product, i.e. the safety of the drug which is, in reality, its primary goal.
Maestro, the integrated control system designed by IMA Active and used to manage an entire continuous production line as if it were a single unit, was presented during the event. Its modular design allows for easy integration of different units and draws the operator's attention to only the key production parameters.
Laura Marzadori, First Violin of the Teatro alla Scala Orchestra of Milan, performed a solo violin recital.