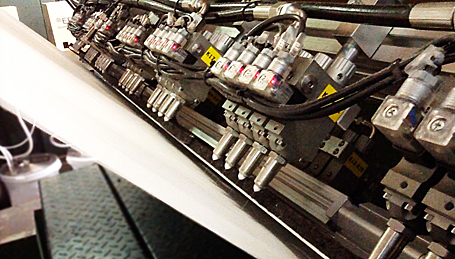 ERO Gluing Systems launches a new electronic gluing system
publié le mercredi 30 septembre 2020
ERO is supporting paper bag & sack manufacturing industry by offering glue equipment upgrades to all production lines resulting in important glue savings and reducing maintenance tasks and time.
Specialized in gluing systems and quality control, ERO Gluing Systems has transferred its proven gluing technology and overall experience to the flexible packaging manufacturing industry. Electronic systems allow manufacturers to upgrade their production lines and replace messy open glue pots. This has eliminated glue disposal, reduced operator's cleaning tasks and maintenance, and simplified handling and operator set-up. Furthermore, non-contact adhesive application provides high-precision dot patterns which translates into adhesive savings and guarantees a strong bond and superior quality. As cleaning tasks is eliminated, downtime is reduced: electronic systems use less spare parts and eliminate the need for expensive glue patches, rollers and belts, associated with the use of glue pots.
"Electronic gluing systems represent a revolution for this market and bring benefits and overall profitability," comments Francesca Notari, General Manager of ERO. "ERO recently launched dispensing systems for bio-friendly adhesives. We are in constant research and development of sustainable and efficient adhesive dispensing solutions and we have been really welcomed by leading-industry clients".
All rights reserved except agreement written by Emballage Digest or mention of the magazine