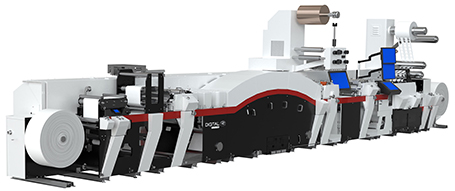 Essentra Packaging invests in a new hybrid press at its Poland site
publié le mardi 22 février 2022
Essentra Packaging, an international carton, label and leaflet manufacturer, has announced it is investing in a new Mark Andy Digital Series HD high resolution hybrid flexographic press at its Lublin, Poland site to further support its beauty and personal care labels customers.
Complementing the company's digital printing capabilities in the UK, USA, Spain and Ireland, Piotr Skalecki, Lublin Site's Operations Leader at Essentra Packaging said: "This is a really exciting move for us here in Lubin. As run lengths continue to decline and our customers are seeking ever more complex products, combining the best attributes of digital and flexography in one complementary and high-performance machine, is the perfect answer for our label printing business."
The 13" (330mm) hybrid press includes 7 flexo stations and a digital engine offering W + CMYK + OGV providing over 93% coverage of the Pantone colour range. It has two AVT inspection systems; Helios for inline web inspection and a separate AVT system integrated with the press for digital engine diagnostics ensuring complete quality control.
"As a printer that blends tried-and-tested traditional print methods with cutting edge technology, the acquisition a new hybrid technology significantly boosts the diversity, precision and speed of what we can accomplish. Our capacity has never been stronger or more well-rounded and our team is poised to meet every need our customers might have, no matter the design complexity involved. The Mark Andy hybrid press keeps our workflow and material management streamlined while also making our print room more flexible. Decorative tactile finishes, such as cold foil stamping, are simple and fast. In fact, more screen-printing effects can be replicated, giving us a new level of agility for our customers," Piotr continued.
"From a sustainability perspective, which is always important, the press delivers over a 50% reduction in our waste for short and mid runs reducing our carbon footprint. It also only operates on around 50% of the energy required for a typical 10-12 station flexo press and creates a minimal amount of ink scrap. This is always an issue in flexo printing where we are regularly printing a high number of special and spot colours."
All rights reserved except agreement written by Emballage Digest or mention of the magazine