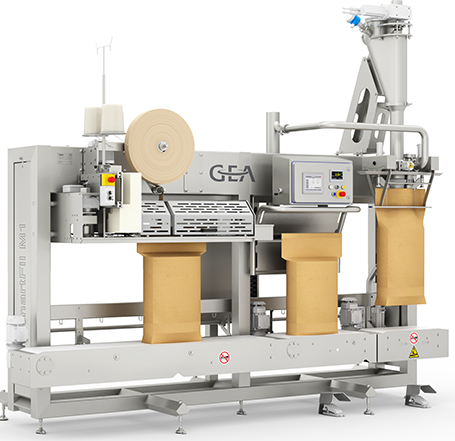 GEA launches versatile powder packaging line for very small quantities
publié le lundi 25 octobre 2021
Technology group GEA is launching a new packaging line for dairy and food powders or granules. The new GEA SmartFil M1 has been developed to provide a wide range of filling configurations to meet the diverse necessities of the food, dairy and pet food industry for low-capacity applications.
Companies operating in emerging markets, low volume producers and pilot plants need such a system, which offers a compact and flexible low-rate packing process to meet their special needs. Likewise, with their diverse portfolios, raw material producers need to be able to adapt their packaging solution in a versatile way.
With more than 100 possible variants, the GEA SmartFil M1 can be configured to suit almost any application from dry, fine powders through to coarse granular products. The new machine offers a nominal filling capacity of 120 bags per hour or three tons per hour at 25 kg product size. Depending on the product being packaged, the packaging system features configurable product metering options, including vertical auger and horizontal vibratory feeder. An optional deaeration probe may be added for improved consolidation of the product if required.
Customers can choose to pack into open-mouth bags, boxes or drums of varying sizes. Closing is configurable dependent on packaging type. Continuous heat sealing with glue reactivation or with sewing is available for open-mouth bags, whilst impulse sealing is offered for hermetic sealing of plastic packaging. The built-in height adjustable conveyor system makes packaging changes fast and simple, whilst allowing the operator to work at an ergonomic height. The integrated control panel makes it easy to reconfigure the process to activate the new functions as needed.
All rights reserved except agreement written by Emballage Digest or mention of the magazine