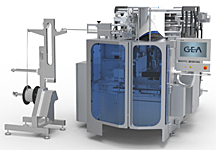 GEA unveils its new vertical SmartPacker CX400 D-Zip
publié le lundi 12 octobre 2020
GEA will launch in November its new vertical SmartPacker CX400 D-Zip for pre-packaged food products for retail and food service. It combines fast, high-quality operation with maximum flexibility and uptime.
Apart from producing premium quality D-ZIP bags, this easy-to-use machine can produce more than 10 different bag styles for a wide variety of applications such as candy, nuts, frozen fruits and grated cheese. The new machine integrates a newly developed corner seal unit, designed to reduce complexity and improve quality, flexibility and serviceability, thereby meeting the demands of today's processors.
It combines the popular high-quality pouches made on conventional horizontal machines with the advantages of a SmartPacker. Users can expect premium performance with an output of up to 100 D-Zip bags/minute; 98% uptime and highly accurate operation from a machine that carries the smallest footprint of any other comparable machine in the industry. The SmartPacker CX400 D-Zip is easy to use; creates all existing bag styles; has a changeover time of under 45 minutes – without the use of special tools – and features front discharge.
The premium quality D-Zip bag leaves nothing to be desired with smooth and sharp cross seals, an elegant and slim design, wrinkle-free seals with high density and air/gas-tight sealing. Finally, the GEA SmartPacker CX400 D-Zip design reduces the amount of plastic required for the zipper by approximately 15% by eliminating the zipper-material in the cross seal. Additional plastic waste is avoided given no punching is required in making the zipper.
All rights reserved except agreement written by Emballage Digest or mention of the magazine