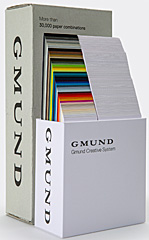 Gmund Paper imagines versatile tool for paper professionals
publié le mardi 26 mai 2020
Gmund Paper presents a system that helps paper professionals create individually designed papers. The program is named "Creative System" and it lets customers have their own custom-made Gmund paper manufactured and delivered at extremely short notice.
Specifically, this means fifty different colors, each in matt and metallic, can be combined with 77 embossing in papers of 9 weights. The permutations are enormous: over 30,000 creations are possible.
The Creative System offers the right solution for every application in every industry. The wide scope for design in the various weights of cardboard is especially well suited for the packaging sector. Each customer can find the perfect paper for his brand here. There are no limits to creativity. The minimum order quantity is 20 kg per specification, e.g. this corresponds to 3,000 large sheets (70 x 100cm) in 100 g/ m2. With a production time of 7 to 10 working days.
The Creative System is aimed at paper professionals. This clearly arranged system leads directly through several simple steps to your own individually designed paper. The user begins by choosing the basic paper in "Book 1" and afterwards selects the paper's texture in matt or metallic (50 different colors), as well as the grammage, in "Book 2".
All rights reserved except agreement written by Emballage Digest or mention of the magazine