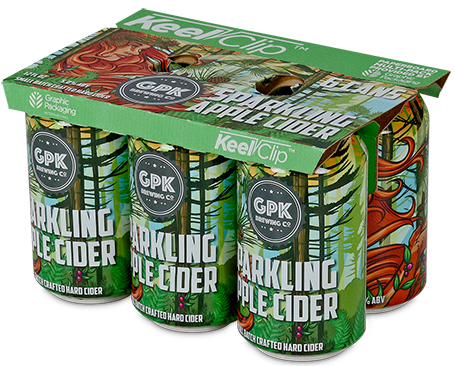 Henkel and GPI packaging solutions enhance sustainability of packaging can multi-packs
publié le mardi 28 septembre 2021
Consumers show increased awareness of the environmental impact of packaging, whic significantly influences purchase decisions. Henkel has anticipated this development: Its experts are developing packaging adhesives which support the design of sustainable packaging involving less waste and improved recyclability.
Taking into account the complexity of the packaging supply chain, Henkel is achieving this in collaboration with its partners along the value chain. A prime example of how fruitful this can be is KeelClip™, a solution that replaces single-use plastic rings or wrap with recyclable cardboard. It has been developed by Graphic Packaging International (GPI) and leverages Henkel adhesive technologies.
A study by ProCarton shows that 75% of consumers from across Europe say that the environmental impact of a products packaging affects their purchasing decision. However, the adhesive which is a major enabling technology for innovative packaging design is often not on the centerstage of attention among consumers. But these few drops that are holding almost every piece of packaging together can make a significant difference. Hence, Henkel is pushing innovative adhesive products further to help reduce waste and increase recyclability for the whole value chain. With its solutions, the supplier capitalizes on the potential the adhesives bear for more sustainable design in packaging.
With this solution, Henkel and GPI help to cut both plastic use and CO2 emissions in the packaging lifecycle. With the first implementation of the KeelClip™ technology to a few customers production lines, Henkel is supporting them on their journey minimizing the CO2 footprint through innovative packaging design. Furthermore, KeelClip™ is easy to recycle after use and it needs significantly less board than most other carton-based options for can multipacks in the market. The applied adhesives from Henkel's Technomelt range are fully compatible with paper recycling processes and offer a high cohesion, minimizing adhesive transfer to the container.
All rights reserved except agreement written by Emballage Digest or mention of the magazine