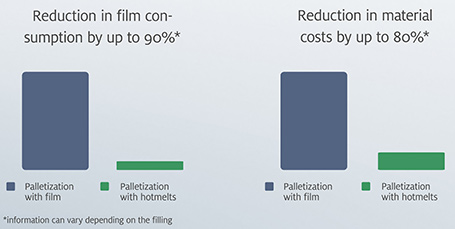 Henkel launches a new palletizing adhesive packaging format
publié le mercredi 09 juin 2021
A new innovation from Henkel Adhesive Technologies is helping to reduce the reliance on single-use plastic wrap and packaging materials when transporting goods on pallets. Palletizing is an essential part of modern supply chains, but until now this has required large quantities of plastic films, intermediate layers and anti-slip mats to stabilize and secure stacked goods.
All this changes thanks to Technomelt Supra 7220 PS Easyflow from leading adhesives manufacturer Henkel. The new hot melt adhesive significantly cuts or fully dispenses with the need for film and pallet stretch wrap. By reducing material and waste it enables manufacturers, logistics specialists, distributors and retailers meet ever tougher sustainability goals.
"With solutions like the Technomelt Supra 7220 PS Easyflow we can help our customers meet current sustainability standards and support the drive to reduce plastic waste. At the same time, we can help make production and logistics processes more efficient and cost effective. By leveraging the power of our Easyflow packaging format, this solution has also been developed as an automated, closed system that ensures safer working environments and minimizes downtime," commented Stephan Hähnert, Business Development Manager Sustainability for Consumer Goods Adhesives.
Henkel's new solution allows palletizing of various materials to be performed with no, or minimal plastic film and is suitable for all different kinds of filled goods. A hot melt adhesive joins the outer packages with each other via an automated process. This safely secures the pallets. Depending on the packaged product, the adhesives can be adapted to ensure the desired performance. By reducing the amount of packaging material, it is significantly more sustainable and efficient to transport goods on pallets. As well as reducing costs for plastic films and eliminating the use of anti-slip mats and the intermediate layers required for palletization, the solution removes the additional costs and environmental impact of disposing of materials. Furthermore, the glued cardboard packages can themselves be recycled for increased sustainability through the supply chain. For retailers, the solution provides easier and faster depalletization, and fully automated depalletizing is also made possible.
In addition to optimizing logistics the solution helps to drive new levels of safety for production line operators by eliminating manual handling of hot melt adhesive and possible exposure to high temperatures. By avoiding contaminants in the system, this innovative solution reduces equipment maintenance demands.
All rights reserved except agreement written by Emballage Digest or mention of the magazine