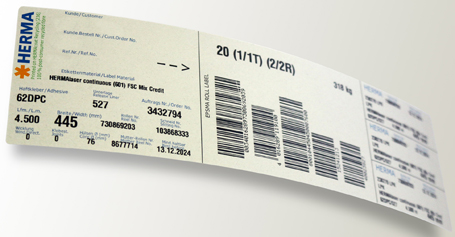 Herma uses recycled material for its self-adhesive materials
publié le jeudi 14 janvier 2021
Can paper labels, which are made entirely from recycled material, solve the same demanding logistical tasks as labels made from fresh fibres? The self-adhesive specialist Herma conducted a successful large-scale trial on its own behalf – and then completely changed the self-adhesive material in its standardized shipping labels for self-adhesive material rolls. The company produces a total of more than one million of these so-called EPSMA roll labels alone each year.
"In addition to our primary environmental goal of achieving climate neutrality in 2021, we focus our attention at all times on inconspicuous things – always with the intention of making them even more sustainable," explains Dr. Ulli Nägele, Head of Development at Herma Self-Adhesive Materials. The EPSMA roll labels on the adhesive material rolls play an important role in ensuring a smooth logistics process. This is based on an industry-standard identification system for the automatic detection of self-adhesive roll material. The labels, which are quite large in size, usually contain several barcodes, for example with information on the length, width, winding direction and number of splices on a roll as well as customer data such as the order number. All barcodes must be able to be printed in sharp definition to ensure that they remain machine-readable at every step in the supply chain. When shipping goods – some all around the world – the labels are also exposed to fluctuating temperatures and must adhere securely even under demanding climatic conditions. Herma has now proven that these challenges can also be met with labels made from environmentally friendly recycled material – based on its own self-adhesive material.
The HERMAcoat Recycling label paper (grade 236), awarded the "Blue Angel" environmental quality seal, is made entirely from post-consumer recycled fibres generated from household waste. The natural white, slightly glossy coated paper is ideal for sophisticated labels with multi-colour printing and demonstrates very good printing quality in thermal transfer printing. It is therefore ideally suited for barcodes that contain variable data, but also for high-quality multi-colouring printing, for example for the pre-printing of company logos or for product decoration. Herma is replacing the previously used HERMAextracoat label paper (grade 242) with the new label paper. "For us, this change was only an initial, albeit significant step as the total amount of material used is considerable," states Dr. Nägele.
All rights reserved except agreement written by Emballage Digest or mention of the magazine