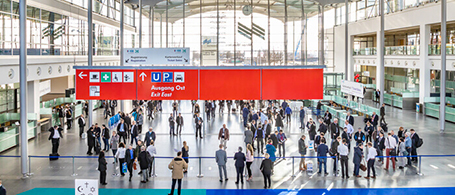 ICE Europe, CCE International and InPrint Munich will take place in March 2022
publié le lundi 06 décembre 2021
After a compulsory break in 2021, preparations are well underway for the collective of converting, paper and print exhibitions. Organiser Mack-Brooks Exhibitions is confident to hold the shows from 15 to 17 March 2022 at the Munich Trade Fair Centre in Germany. Visitor registration is already open.
"Finally, our live events can continue their critical role in bringing the global converting, paper and print industry together. As of today, a total of 467 exhibitors will be presenting their latest technologies on a combined net exhibition space of more than 13,500m²," explained Patrick Herman, Event Director of the Converting, Paper and Print Events at Mack-Brooks Exhibitions. "For the first time, the three shows will take place at the same time and the same venue creating an all-round experience with increased opportunities and synergies for all trade visitors on-site. With InPrint Munich covering the print technology for industrial manufacturing we are now able to offer an almost comprehensive overview of the value chain," concluded Patrick Herman.
Furthermore, visitors can expect an extensive and diverse supporting program. At ICE Europe, best practices, excellence, innovation and extraordinary achievements in the converting industry will be honoured with the popular ICE Awards. Four winners, selected by industry professionals, will be presented during an official ceremony in the following categories: Digital Converting Solutions/ Sustainable Products and Manufacturing Processes/ Efficient Production Solutions/ Special Film Innovations.
The comprehensive and specialized conference program at InPrint Munich offers insight into market developments and innovative projects. The presentations focus on technology trends, new applications and the latest print technology solutions for industrial manufacturing, with Q&A sessions after each presentation. The open seminar program at CCE International covers the latest trends and topics in corrugated and folding carton production and processing.
All rights reserved except agreement written by Emballage Digest or mention of the magazine