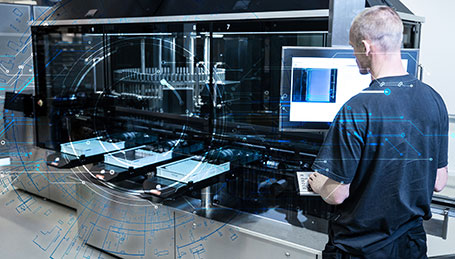 Inspection machines: Stevanato Group launches Artificial Intelligence platform
publié le mercredi 24 février 2021
Stevanato Group has launched an Artificial Intelligence platform, based on Deep Learning (DL) models, that leverages the benefits of human-like decision-making in automatic visual inspection equipment.
The platform allows pharma companies to overcome the traditional trade-off between detection rate and false rejection rate, ensuring robust and replicable results. False rejects can be reduced tenfold, and the detection rate can be improved, yielding up to 99.9% accuracy, both for particle inspection and cosmetic defects detection.
Deep Learning is particularly beneficial when applied to difficult-to-inspect and high-value biotech drugs, as it allows pharma companies to achieve higher productivity while preserving drug integrity. Drugs in the form of suspensions or lyophilized cakes frequently challenge available vision tools, causing misinterpretations of supposed defects. Traditional systems can, for instance, misclassify cosmetic defects or air bubbles as particles. Artificial Intelligence mitigates misclassification and reduces costly re-inspection.
Thanks to its partnership with Microsoft and the adoption of Microsoft Azure platform, Machine Learning and AI features, Stevanato Group intends to deliver « smart » equipment compliant with strict pharmaceutical data management and security requirements, while improving inspection performance and reducing costs related to production reparametrization. The certified cloud-based platform is compliant with U.S. CFR 21 Part 11 and EU GMP Annex 11, meets data integrity needs, and offers advanced monitoring tools such as heat maps and confusion matrix for model performance evaluation.
Incorporating new technologies can be challenging for pharma companies, as it usually requires them to adapt internal processes and invest time and resources. The combination of the latest digital developments and a qualified team of vision and AI engineers bring a dedicated and accurate data analysis service with continuous support for tasks from image collection to model validation.
All rights reserved except agreement written by Emballage Digest or mention of the magazine