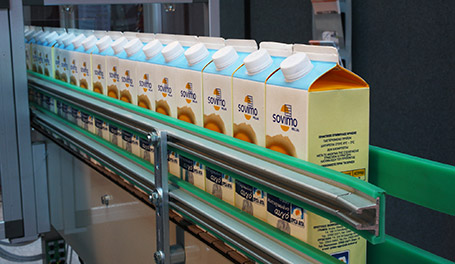 Italian packaging machinery: orders pick up both at home and abroad
publié le vendredi 26 mars 2021
The 4% growth in packaging machinery exports is pushing sales revenues into positive territory as the outlook remains stable for 2021. Causes of concern include rising prices of raw materials and components and maritime freight rates.
Based on the sample of companies monitored by the MECS-Ucima research department, the orders received by Italian packaging machinery manufacturers showed an upswing at the end of 2020, both in Italy and internationally, with an overall increase of 7.4% compared to the same period the previous year. International demand grew by 8.1% and domestic demand by 3.4%. Overall however, cumulative orders fell by 1.7% in 2020 compared to the same period in 2019.
The sector also saw an improvement in sales turnover in the last quarter of 2020 compared to the same period in 2019, allowing turnover to remain in positive territory (+1.8%) following the difficulties caused by the Covid-19 pandemic. This was a combined result of 4% growth in the export market and an 8.2% contraction in domestic Italian sales.
As for the export market, 17.6% of companies are expecting an improvement in results in the first quarter of 2021 compared to the previous quarter, 64.7% are anticipating stable results, and 17.6% expect to see a fall in orders.
The sector therefore remains essentially healthy with companies' expectations stable for the coming months in both the domestic and export.
All rights reserved except agreement written by Emballage Digest or mention of the magazine