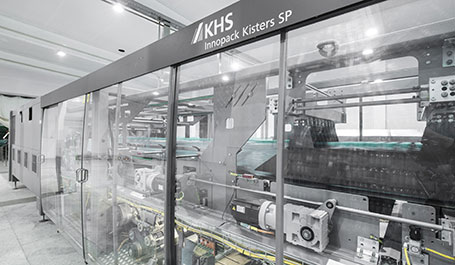 KHS packers now also process shrink film made of 100% recyclate
publié le vendredi 19 mars 2021
With the option of now processing shrink film made of 100% recyclate, the KHS Group meets this demand for environmentally-friendly packaging systems and adds a further sustainable alternative to its packaging portfolio.
With immediate effect, the use of film made entirely of recyclate is possible on all KHS shrink packers in the TSP, WSP, SP and PSP series. Thanks to their modular design, existing machines can be easily adapted. Fully recycled film is suitable for use with both PET and glass bottles as well as beverage cans.
Using recycled film is to the operator's advantage in several respects. "On the one hand, compared to new material it reduces the carbon footprint by up to 65%, according to market information supplied by various film manufacturers, and this thus helps to significantly save on resources," explains Martin Thyssen, packaging expert for cardboard, paper and shrink film at KHS. On the other, bottlers would then be prepared for the planned changes to legislation in some countries regarding fixed quotas. In Great Britain, for example, by April 2022 plastic packaging must be made up of at least 30% recyclate. France is already one step further: since January 1, 2021, throughout the entire country plastic packaging must contain at least 50% post-consumer recycled materials. In both states, companies face increased taxes should they undershoot these quotas.
It cannot be deni–ed that the use of film made of recycled material is more expensive than conventional new film. Experience shows that up to 10% in additional costs are incurred for 50% rPE, with this surcharge rising to a maximum of 15% for 100% rPE. However, Thyssen is convinced that the benefit of acting sustainably by using recycled film overrides the increase in expenditure – especially when failing to meet statutory thresholds means paying environmental taxes in the future.
All rights reserved except agreement written by Emballage Digest or mention of the magazine