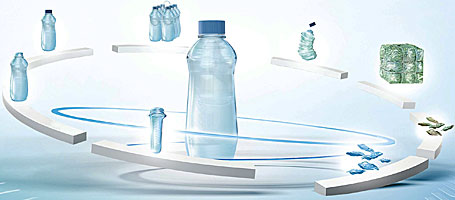 Krones organizes a virtual trade fair stand
publié le lundi 20 avril 2020
The 2020 trade fair year has so far, due to the coronavirus, been characterised by postponements and cancellations. The interpack, too, has had to be rescheduled to February 2021 to protect the people involved and to slow the spread of Covid-19.
In order to nonetheless provide an insight into its solutions for the packaging industry, Krones has now created a virtual trade fair stand, and rendered its exhibits for the interpack accessible as a digital experience – faithful to the original and in 3D.
Visitors will discover on the stand the LitePac Top secondary packages, which in their manufacture score highly in terms of lower energy consumption and less waste incidence than shrink-packs, in particular. LitePac Top can be handled using the Varioline 2M packaging machine, which will also be on show at the stand. Besides maximised flexibility, thanks to the use of lifetime-lubricated bearings, electric vacuum pumps and the recuperation of braking energy, it provides additional advantages in terms of sustainability, efficiency and cost-effectiveness.
Flexibility, brilliant colours, and freedoms in the visual and haptic design of containers, this is what the DecoType direct printing machine from Dekron offers. With direct printing, new designs can be cost-efficiently applied to bottles within a minimised timeframe. By printing the motif directly onto the container's body, labels and the concomitant waste can be eliminated. The process functions both with glass bottles and with containers made of virgin PET and recyclate. And the printed bottles can even be returned to the recycling process, and recovered using Krones' MetaPure recycling systems. But with the MetaPure Recycling lines not only PET bottles, but polyolefins as well, can be recycled and even upcycled into food-grade PET.
The virtual interpack begins on 28 April 2020, and provides answers to the questions of how currently predominant resource consumption can be guided into a sustainable circular economy, and what options the industrial sector has for accomplishing this transformation. Visitors to the virtual stand are not left unassisted. For questions, wishes and suggestions, stand support staff will be available from 28 to 30 April 2020 between 10:00 a.m. and 6:00 p.m. CEST in a live-chat format.
https://www.krones.com/en/2020-interpack.php
All rights reserved except agreement written by Emballage Digest or mention of the magazine