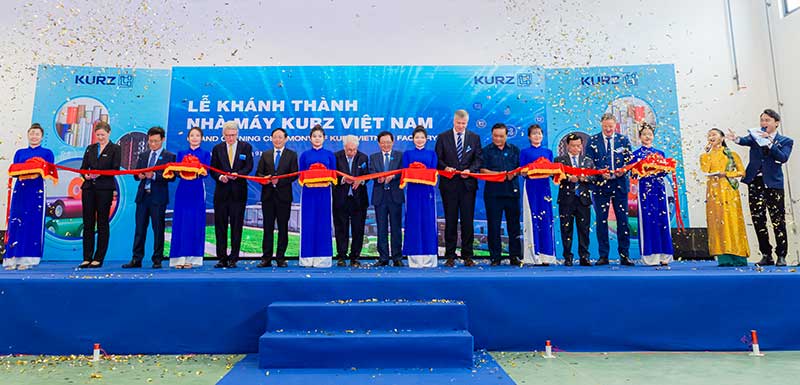 Leonhard Kurz inaugurated its new plant in Vietnam
publié le lundi 11 septembre 2023
Leonhard Kurz opened its new plant in Vietnam at a formal ceremony. The foundation stone of the thin-film specialist's approximately 60,000-square-meter production facility was laid in 2022 near the major city of Quy Nhơn in the center of the country.
In addition to representatives of the provincial government, the ceremony was attended by Kurz CEO Dr. Andreas Hirschfelder, the advisory board of Leonhard Kurz Stiftung & Co. KG – Walter Kurz, Peter Kurz and Anja Kurz – as well as General Director Dr. Cosima Freiin von Salis-Soglio. With the delegation, Kurz underlines the importance of the new location for the future of the company and strengthens its presence in the Asian market. In addition to Vietnam, the company is also represented in China and Malaysia with its own production facilities.

The group is investing a total of around 37 million euros in the new site and can thus plan for an additional production capacity of around 15 million square meters of its transfer products per year from 2024. The production facility itself will also rely on state-of-the-art machinery and process technology to manufacture decorative products.

In the future, Vietnam will primarily manufacture products for the plastic finishing of products in the automotive, consumer eletronics and home appliances sectors. In the future, other business areas can also be expanded thanks to the new capacities in Southeast Asia.

For Dr. Andreas Hirschfelder, the opening is a milestone: « Our strategy for the future is to continue to position ourselves as a pioneer in quality and sustainability wherever our customers are. This is exactly what we are achieving with our new site in Vietnam, which will unleash its full potential for the region but also internationally in the coming months. I would like to thank all those involved in making this success possible and look forward to working with my colleagues here on site. »
The new production facility in Vietnam will join the existing twelve factories in Europe, Asia and the USA and will play its part in Kurz's success while maintaining high environmental, energy and occupational safety standards. Although the focus is on the Asian market, international orders will also be served from the plant in the Vietnamese province of Binh Dinh with immediate effect.