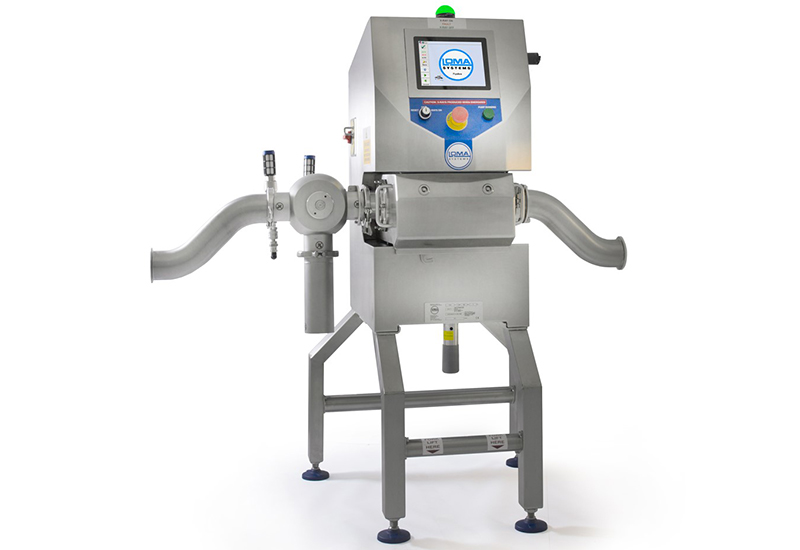 Loma Systems launches the X5 4 Inch Pipeline
publié le vendredi 20 octobre 2023
Following customer feedback for higher throughput of pumped and free-flowing items, Loma Systems unveile the new 4" option X5 Pipeline with a larger diameter for fast inspection.
Loma Systems, a global leader in inspection technologies for food quality and safety, has introduced a new product into its Pipeline portfolio with the launch of a 4" option. Perfect for inspection of pumped and free-flowing applications, such as large-formed hams and gammons, the product complements Loma's Pipeline family, which is already available with product pipes of 2.5 and 3", all offering excellent detection across a wide range of contaminants.
Following customer feedback highlighting the need for a product with 4″ couplings and higher throughput, Loma redesigned the Pipeline's inlet and outlet manifold to accommodate the increase in diameter. The X-ray section itself is now rectangular, which changes the shape of the contents passing through the system, rather than compressing them. Additionally, the feed to the X-ray section is on a gradual incline to aid flow and reduce back pressure.
With its concentric diameter pipe, small footprint and great detection performance, the new X5 4″ Pipeline includes all of the standard features from the X5 range, but also has upgrades from the previous-generation model including a removable cassette for easy cleaning, integrated safety sensors and an easy-to-use capacitive 8" touchscreen, thereby ensuring the highest levels of regulatory compliance through real-time data collection. Providing easy access to all machine areas and rated to IP69 as standard, the system is designed to be used within a high-care or high-temperature, high-pressure wash-down environment.
Equally adept at inspecting fast, free-flowing products such as jam, chutneys, and even soups or sauces, the X5 Pipeline is the next generation in food contaminant detection and can be used for a variety of applications. Providing peace of mind that no contaminants will pass inspection, the unique X5 detector design offers excellent detection levels of all major contaminants, including bone, ceramic, glass and dense plastics as well as stainless steel, ferrous and nonferrous metals.
The X5 Pipeline can be fitted with ARU (2.5") and ARL (2.5" or 3",4") automatic reject options to reduce waste and increase productivity, and is designed to be compatible with vacuum-filling machine brands such as Handtmann, Vemag and Risco.