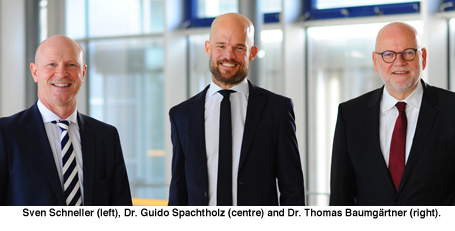 Management changes at Herma Self-adhesive Materials division
publié le vendredi 04 décembre 2020
Located in Filderstadt near Stuttgart (Germany), Herma confirmed a planned change in management. On 1 March 2021 Dr. Guido Spachtholz (47) is to succeed Dr. Thomas Baumgärtner, who is retiring, as managing director and head of the self-adhesive technology specialist's Self-adhesive Materials division. Dr. Spachtholz will start to familiarise himself with his new roles in Filderstadt, where further major expansion work was recently completed, in January.
Dr. Baumgärtner assumed responsibility for the Self-adhesive Materials division when he joined Herma as managing director in 2005. His drive enabled the division to emerge as the primary innovator, in pursuit of the goal to grow continuously faster than the market. The new production facility that entered service this year has not only accomplished a further advance in innovation, but also raised the annual adhesive material capacity by 50 percent, to 1.2 billion square metres.
Dr. Guido Spachtholz, like his predecessor, was awarded his doctorate in engineering. He was most recently a member of the board of management of Chiron Group, a specialist in CNC machining centres and turnkey manufacturing solutions headquartered in Tuttlingen. He is a native Rhinelander and previously worked for Stama Maschinenfabrik GmbH, which belongs to Chiron Group, and Alfred Schütte GmbH, a leading supplier of multi-spindle automatic lathes and 5-axis CNC grinding machines.
All rights reserved except agreement written by Emballage Digest or mention of the magazine