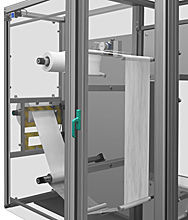 Masks: Marchesini Group and the University of Bologna collaborate to create a super filtering material
publié le lundi 06 juillet 2020
A unique sector prototype enables the production of filtration materials for face masks with greater protection against viruses and bacteria compared to materials currently in use. The technology was created by a multidisciplinary research group at Bologna University in collaboration with Marchesini Group.
The researchers are now finalising the development of the machine, which should be fully operational in the space of a few weeks. "The prototype enables industrial-scale production of this new type of filtration material, based on electrocharged polymer nanofibers," explains Andrea Zucchelli, a professor with the Department of Industrial Engineering at Bologna University, and one of the project coordinators. "We embarked on a co-design operation in partnership with Marchesini Group, which responded to an appeal we launched in Bologna, and in under two months, thanks to vital teamwork, we came up with this machine". Once up and running, the prototype, which is housed in the laboratory of the Department of Industrial Engineering (DIN) in Bologna, will produce enough filtration material for around seven thousand masks per day.
The first production runs of these materials will be used to produce a prototype batch of FFP3-type masks by Zola Predosa-based company GVS, a leader in the supply of advanced filtration solutions for highly critical applications and a major world producer of personal protection equipment, which has been involved in the project from the outset. It all began shortly after the start of the coronavirus outbreak: given the huge spike in demand for appropriate personal protection equipment, an interdisciplinary research group at Bologna University set about developing a filtration material that would offer high protection against the risk of contamination from bacteria and viruses.
All rights reserved except agreement written by Emballage Digest or mention of the magazine