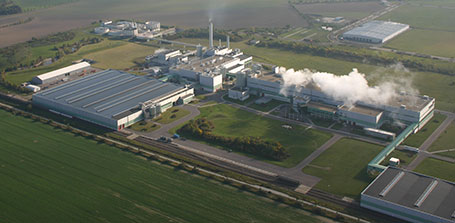 Model Group acquires Sachsen Mill from Stora Enso in Germany
publié le lundi 31 mai 2021
Model Group has signed an agreement with Stora Enso to acquire their Sachsen Mill located in Eilenburg. The mill has an annual production capacity of 310,000 tons of newsprint specialty paper based on recycled paper. Under the agreement, Model Group will own and operate Sachsen Mill, after the deal is closed.
Stora Enso will continue to sell and distribute Sachsen's paper products under a contract manufacturing agreement for a period of 18 months after the closing. After that Model will convert the 9.25m trim width machine to containerboard. The converted machine will focus on the production of lighter grammages and is therefore satisfying the future customer demand. This acquisition is strengthening Model's value chain between paper recycling and corrugated packaging business.
The addition of Eilenburg provides a good conversion opportunity with an ideal location to supply containerboard to Model's corrugated plants in Germany, Czech Republic and Poland. The containerboard production capacity of Model Group will be doubled after the successful conversion. The Model Group develops, produces and delivers high-quality packaging made from solid and corrugated board, ranging from simple transport packaging to chocolate and perfume boxes with sophisticated finishes. The Group has subsidiaries in eight countries. The main markets include Germany, Switzerland, the Czech Republic, Poland, Benelux, Austria, France, Slovakia, Croatia, Slovenia, Hungary and Bosnia-Herzegovina. The group headquarters is located in Weinfelden, Switzerland.
All rights reserved except agreement written by Emballage Digest or mention of the magazine