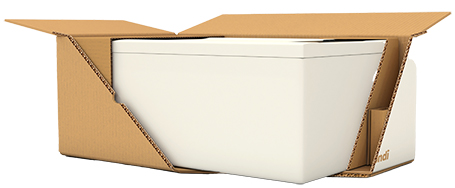 Mondi creates a 100% recyclable corrugated packaging for boilers and radiators
publié le lundi 21 février 2022
Mondi has created a fully recyclable packaging solution for Warmhaus, a Turkish producer of radiators and boilers for home heating. The new Monocorr Box is made of 100% recyclable corrugated board, including the inserts that cushion the packaged products. The previous Warmhaus packaging used expanded polystyrene (EPS) foam inserts, which have low recycling rates throughout Europe and generally end up in landfill or incineration facilities after disposal.
Monocorr Box is easily recyclable in Turkey and supports Warmhaus's exports to the European Union, where some retailers are beginning to switch to EPS-free packaging, even for larger durables. Producers may also have to consider Extended Producer Responsibility (EPR) fees for EPS material in the future.
In addition to being fully recyclable, the Monocorr Box has benefits in terms of logistics and shipping. The boxes are delivered flat and the corrugated inserts take up 94% less space during transport and storage than the previous EPS foam inserts. Assembled Monocorr Boxes are more compact than the previous packaging and the size of the outer box has been reduced by 6%, which allows Warmhaus to stack 20% more items on each shipping pallet.
All rights reserved except agreement written by Emballage Digest or mention of the magazine