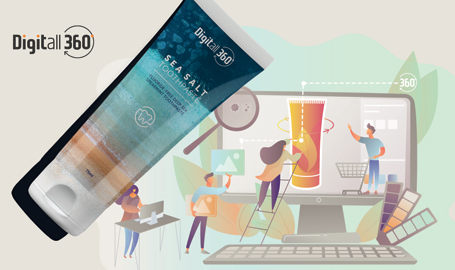 Neopac launches online shop for digitally printed tubes
publié le jeudi 04 février 2021
Hoffmann Neopac has launched a direct purchase microsite for DigitAll360°, its recently introduced digital tube decoration service. The new marketplace, accessible via shop.neopac.com, walks tube customers through an intuitive process that includes downloadable design guides and templates, an initial portfolio of stock mono-material PE tubes from 50-200 ml in volume, simple artwork uploads 3D renderings and a comprehensive pre-purchase artwork check.
DigitAll360° Online shop was developed to meet the demands of beauty start-ups, fast-tracked projects of larger companies, and the needs of contract manufacturers or small-quantity pharmacy orders. The service prints photorealistic graphics and text on the entire surface of cylindrical containers. Available for a wide variety of substrates and almost unlimited color palettes, DigitAll360° benefits include unparalleled all-around decoration, unprecedented digital color matching, digital-level variability, quick delivery and increased sustainability.
"For customers, the new site simplifies the most advanced digital tube printing techniques for an intuitive, step-by-step process to designing and decorating precisely the right tube for products in a variety of sectors, especially ones such as health & beauty where shelf impact is paramount," said Cornelia Schmid, Head of Marketing for Hoffmann Neopac. "Importantly, the site's 3D view and comprehensive artwork checks show customers exactly what their finished tubes will look like. In addition, our customer can order a test quantity of individually printed tubes to evaluate the print quality and test the compatibility of the product with the packaging".
All rights reserved except agreement written by Emballage Digest or mention of the magazine