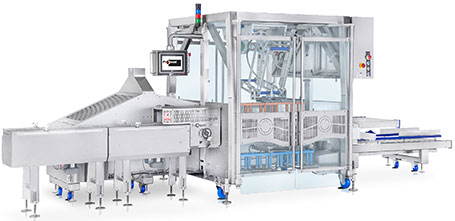 New case packer expands Proseal's Food packing solutions
publié le jeudi 27 mai 2021
Tray sealing specialist Proseal has extended its product portfolio with the launch of a high-speed fully automatic case packing system. The new patent pending Proseal CP3™ provides the ideal complement to Proseal's extensive range of tray sealing machines to offer customers a complete primary and transit packing solution.
The case packer combines efficient power consumption and a compact footprint with the ability to fill cases at up to 120 packs per minute.
Key to the CP3's exceptional performance is Proseal's proven ProMotion tray infeed system. This maximises throughput by using following motion and intelligent buffering technology to effectively control the flow of trays, enabling them to feed continuously in the case packer without stopping.
The CP3 can handle a wide variety of pack formats, including trays, pots and sandwich packs, in materials such as A-PET, C-PET and board. Auto tool technology enables fast and easy format changes, while Quick Release (QR) conveyors allow swift removal and replacement to speed up and simplify cleaning and maintenance.
The new case packer features the same high levels of construction and durability as Proseal's market-leading tray sealers and incorporates many of their advanced features. These include the ProTect™ user login and audit trail security system, which provides different levels of authorisation access for individual personnel, and full compatibility with the ProVision™ OEE and downtime analyser that delivers a comprehensive real time view of machine performance. Set up and daily operation are simplified thanks to the user-friendly menu-driven control panel with step-by-step prompts, error and status displays, and batch pack counter.
All rights reserved except agreement written by Emballage Digest or mention of the magazine