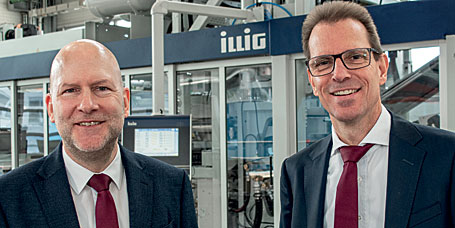 New Managing Director at Illig
publié le vendredi 27 mars 2020
Illig Maschinenbau has appointed Carsten Strenger to the position of Managing Director as of February 17, 2020. Beginning April 1, 2020, he will succeed Karl Schäuble, who has held this position for more than 30 years.
Mr. Strenger will be responsible for production operations and business administration. Dr. Heinrich Sielemann is responsible for sales, service and development. The company will thus be spearheaded by two managing directors, Carsten Strenger and Dr. Heinrich Sielemann, beginning April 1.
With his extensive experience in international management of SMEs, Carsten Strenger is perfectly equipped for his new role at Illig. After attending the Technische Universität Kaiserslautern for engineering management, he held various senior management positions in machine and plant engineering companies, and also has experience at a recycling company. Carsten Strenger was most recently the managing director of Romaco Group, an international machine manufacturing company in the packaging industry that supplied packaging equipment for the pharmaceutical industry.
All rights reserved except agreement written by Emballage Digest or mention of the magazine