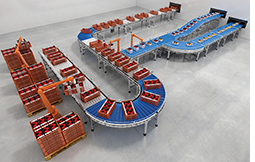 New material handling solutions for food and pharmaceutical industries
publié le mardi 31 mai 2022
Abonnez-vous à la revue pour lire la suite de l'article
s'abonner
Interroll is expanding its existing product offering of conveyor solutions for additional industries with the launch of new platform technologies that meet stringent hygienic requirements.
Based on the benefits offered by Interroll's globally successful technology platforms, the new Modular Hygienic Platform (MHP) will now also make available flexibly applicable modular solutions based on the principles of hygienic product design. This makes it possible to significantly improve food safety and shelf life—while at the same time optimizing energy and operational efficiency. The innovation offensive in this area is being launched with the Special Hygienic Conveyor (SHC) and the Ultra Hygienic Transfer (UHT).
Highly efficient, zero-pressure- accumulation material flows can now be implemented in food processing work processes, which until now have usually been used only in modern parcel centers or other distribution facilities. The decentralized drive concept used in the Special Hygienic Conveyor (SHC) saves up to 50% energy in start-stop operation alone compared to centralized drive solutions that run continuously. At the same time, this results in a noise level that provides an improved working environment and reduced wear and tear when conveying standard E2 crates, where hygienic compromises are reduced.
With the modularity of the platform, which can, as always, be flexibly assembled and expanded from proven products as a plug-and-play modular solution – analogous to the Lego principle – system integrators can handle both simpler and highly complex tasks in the automatic conveying of packaged food and other hygiene-sensitive products. Thus, with the SHC, the application spectrum ranges from autonomous conveyors without the use of a programmable logic controller (PLC) to use in digitally networked Industry 4.0. environments. In addition, the new conveyor enables precise positioning of the transported goods on the conveyor—an important performance feature, for example, in order to easily integrate labeling machines into the automatic flow of goods after the goods have been packaged without complex sensor technology.
The Modular Hygienic Platform (MHP) will be manufactured in a new production plant at the existing site in Baal, Germany, near Düsseldorf. Today, around 240 employees already work in Baal. By 2025 at the latest, an increase of around 60 jobs is planned as a result of the expansion of both the site and the product range for customers in the food and pharmaceutical industries.
Part of 668 issue – May 22. All rights reserved except agreement written by Emballage Digest or mention of the magazine