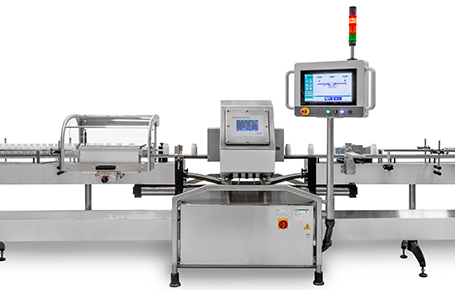 NJM unveils a new CMD metal detection system for pharma bottles
publié le jeudi 10 février 2022
NJM, a ProMach product brand, introduces its integrated CMD metal detection system for pharmaceutical and nutraceutical bottles at Interphex. The CMD system features best-in-class bottle handling with optional reject and reject verification systems. By integrating an NJM raised-bed conveyor with a 3rd-party metal detector head, NJM has eliminated the need for bottle transfers.
The CMD delivers superior performance and a tablet entrapment free design to help manufacturers and contract packers ensure product safety and avoid costly product recalls. Ideal for tablets, capsules, powders and liquid products, this versatile metal detection system can handle round, oval, square and rectangular bottles made of plastic or glass from 38 to 200 mm in height and from 16 to 140 mm in diameter. NJM can equip the CMD with a metal detector head from a variety of top-tier vendors including Thermo-Scientific, Mettler-Toledo and Loma. Heads with multi-simultaneous frequency operation are available for customers handling a wide range of product types.
The CMD has been engineered from the ground up to optimize cleanliness and cleaning processes. Featuring an open frame, removable top and bottom conveyor chain wear strips, no tablet entrapment zones, no exposed wires and a sloped top electrical cabinet, this cGMP-compliant system offers quick and easy line clearance and inspection to help eliminate the chance of cross contamination.
NJM can integrate the compact CMD metal detection system either as a standalone solution or on raised-bed conveyors shared with upstream or downstream equipment to reduce transfers and minimize floorspace requirements. With a footprint as small as 1067 mm long, it easily fits in a variety of locations on a packaging line such as downstream of the cottoner or upstream of the capper. Built with a heavy-duty, stainless-steel frame, the CMD provides repeatable performance, low maintenance and rugged reliability.
Package changeovers are completed quickly and easily with no tools required. When equipped with a reject device, the encoder-based fail-safe reject tracking eliminates the need for timer delay adjustments.
All rights reserved except agreement written by Emballage Digest or mention of the magazine