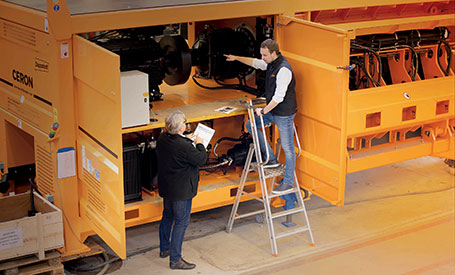 On June 2021, Doppstadt Systemtechnik GmbH (DSG) will be renamed to ALLRECO GmbH
publié le lundi 15 mars 2021
The aim of the name change is to establish the company as an independent brand for the development of stationary recycling systems. Therefore, ALLRECO will be separated from Doppstadt Beteiligungs GmbH and will be part of LIG GmbH from June onwards.
So far, the Doppstadt Beteiligungs GmbH has combined the brands Doppstadt Calbe, Doppstadt Umwelttechnik and DSG under one roof. There is a clear strategy behind the new name, as Henning Strunz (picture), Managing Director of DSG, explains: "The name Doppstadt has stood for innovative environmental technology for decades. It is firmly established in the market. Doppstadt Systemtechnik also benefits from this. « However, the uniform naming also has its disadvantages: « Some of our prospective and existing customers do not perceive the DSG as an independent brand ».
The DSG has therefore decided to change its name. « The strategic reorganisation should help our customers to recognise ALLRECO as an independent brand with a focus on the development of recycling solutions for stationary use, » says Strunz. The name change does not entail any internal or external changes in structure.
The machines and plants that ALLRECO develops will continue to be manufactured either by Doppstadt Umwelttechnik, or by a selected partner company of ALLRECO. Furthermore, the expert for stationary recycling systems will continue to offer smart, complete solutions to its customers in the future. Like DSG, ALLRECO GmbH is to act worldwide. The focus is on the markets in Europe, Japan, Korea and Singapore. For Strunz, one thing is certain: « ALLRECO is the clever combination of our many years of experience as a traditional family-owned company and the pioneering idea of breaking new ground ».
All rights reserved except agreement written by Emballage Digest or mention of the magazine