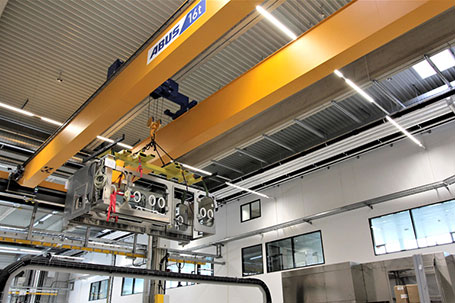 Optima Group is expanding its production capacities
publié le mardi 01 juin 2021
The Optima Group is experiencing high demand for filling and packaging solutions, particularly for the Pharma Division. There was a short-term increase in the already high order backlog caused by the Covid-19 pandemic. The group is building another CSPE Center at its headquarters in Schwaebisch Hall, to be used for the assembly and comprehensive commissioning of pharmaceutical filling lines. This will expand the production area by around 4,300 square meters and also provide new office space.
The new building has been designed to be 25% larger: Completion is planned for late 2021. At Optima Pharma's site in Gladenbach-Mornshausen (Hesse, Germany), the existing assembly hall for freeze-drying systems is being expanded by 50%. The investment is due to the high volume of orders received and ongoing developments in the Optima Group's Pharma Division.
CSPE expedites processes from system design to production start. One part of this is integrated (complete) Factory Acceptance Tests of entire lines (iFATs). The new building covers a total area of around 7,000 square meters and has state-of-the-art equipment, enabling joint Factory Acceptance Tests to be carried out on the filling and closing systems and isolators under realistic production conditions. In the assembly area, the emerging pharmaceutical lines will be supplied with process heating and cooling as well as demineralized water and compressed air via supply lines during commissioning, cycle development and integrated FAT (iFAT). CSPE Center testing ensures that both the subsequent installation and the Site Acceptance Test (SAT) at the customer's site proceed much faster.
For Optima's customers, this shortens the time from product development to market launch by several months. The building will be equipped with a separate logistics area. The employees will also enjoy optimal working conditions in the spaciously designed three-floor office building.
An expansion of capacity was also needed at the Optima Pharma site in Gladenbach-Mornshausen. The freeze-drying systems manufactured there are used in many turnkey projects, together with filling and closing lines from Schwaebisch Hall or as a stand-alone solution.
All rights reserved except agreement written by Emballage Digest or mention of the magazine