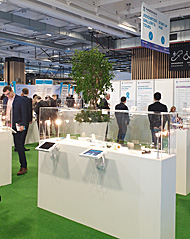 Pharmapack Europe 2020 review
publié le vendredi 21 février 2020
Improving adherence to medication via smarter, patient-centric pharmaceutical packaging and extracting further value from existing medicines and delivery devices are two of the latest key strategies aimed at reducing waste and protecting the bottom line, according to experts at the recent Pharmapack Europe 2020. The event played host a record 411 exhibiting companies, 5366 attendees and 325 delegates.
Europe's leading pharmaceutical packaging and drug delivery event – which took place at the Paris Expo, Porte de Versailles, February 5-6 – featured many innovations as well as novel drug delivery solutions, with 'waste management', "connectivity" and "patient centricity" being some the key themes throughout this year's edition. A who's who of pharma packaging and drug device innovators exhibited from Aptar, SHL, Stevanato Group and BD to Nemera and West Pharmaceutical Services – with several major new technologies and partnerships announced. But some of the most promising innovations were presented by emerging companies in the Start-up hub – with technologies featured from AI development platforms through miniaturized/non-intrusive sensors, to vial/ampule combination devices ad smart packaging.
Gamification transforming engagement of therapies for patients and connected devices were also discussed during the conference sessions. For the experts, pharma now having access to technology to connect boxes, vials and devices to networks, the next decade is not about the technology challenges. But will instead explore how the industry safeguards data, and ultimately, who is its custodian. Blockchain is another industry buzzword of the last year, but experts at Pharmapack point to the improved accountability it could provide in pharma supply as its most immediate use, rather than in securing patient data.
Pharmapack Europe 2021 return to the Paris Expo, Porte De Versailles in Paris between the 27 & 28 January.
All rights reserved except agreement written by Emballage Digest or mention of the magazine