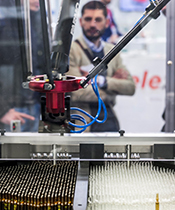 Pharmintech and Ipack-IMA: same date, same place
publié le mardi 01 février 2022
The 7th edition of Pharmintech Exhibition is going to take place in Milan from May 3 to 6, 2022 in conjunction with Ipack-IMA, the international trade fair in 2022 for processing and packaging solutions.
The two events will combine into a unique exhibition moment, covering of processing and packaging technologies from pharmaceuticals to parapharmaceuticals, from nutraceuticals to cosmeceuticals, from medical devices to biotechnologies.
This edition of Pharmintech, sponsored by AFI – Association of the Pharmaceutical Industry, represents the synthesis of a market with unique performances. In fact, at global level, the pharmaceutical market alone is expected to grow at an average annual rate of 6.1% by 2024, with a value of € 1,100 billion in 2020. Looking at Europe in particular, the growth expected over the same period is a significant 5.4% average per year, within which the contribution of Italian manufacturing is significant with +3.4% (source: Ipack Ima Business Monitor in collaboration with MECS).
In this context of growth, the exhibition layout has been designed to amplify business opportunities to the benefit of the three communities Pharma & Nutritional, Beauty & Personal Care and Chemicals & Home Care which will be located in Pavilion 2, with the aim of enhancing Pharmintech's identity within Ipack-IMA as well as amplifying the synergies between exhibition sectors that represent the show's competitive advantage. Specialization and cross-fertilization are at the core of Pharmintech's development strategy, which by 2022 will be « powered by Ipack Ima » thanks to the agreement signed by Ipack Ima and Pharmintech, a Bologna Fiere Group company.
Pharmintech will focus on all components of the value chain: the most advanced solutions for processing, packaging, instrumentation, cleanrooms, plant management and supply chain applications, as well as digital and automation technologies applied to the Lifesciences industry. Technology is complemented by a rich calendar of special events aimed at anticipating trends and innovation in the Life Science field, developed thanks to AFI's technical-scientific collaboration.
All rights reserved except agreement written by Emballage Digest or mention of the magazine