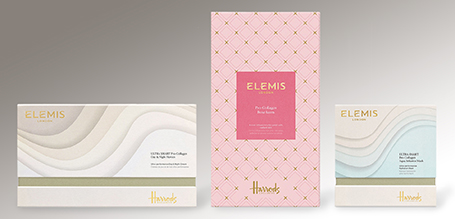 Pollard Solution launches sustainable luxury for premium brands
publié le mercredi 24 novembre 2021
Luxury packaging specialist Pollard Boxes, part of the Pusterla 1880 Group, has created a range of exclusive limited edition gift boxes for luxury British skincare brand Elemis, which are being sold in the recently opened Elemis boutique in Harrods.
An essential part of the brief was that the boxes delivered stand out presentation packaging for these premium luxury products while providing a sustainable pack format, being fully recyclable and containing no plastic, foam, or magnets.
Each box and lid – designed by Sibling & Co, with structural design input from Pollards – combines high quality materials, which provide a soft and luxurious feel when handled, with advanced decoration techniques, including gold foiled Elemis and Harrods Exclusive logos, to deliver a premium finish.
The boxes for the Day and Night Duo and Aqua Mask feature a fluid wave pattern on the front, inspired by the Elemis Ultra Smart campaign imagery to create a recognisable link for consumers familiar with the collection. As part of the opening experience for the consumer, the patterns inside are printed with a bespoke Elemis wallpaper pattern, which is revealed when the jars are removed.
The lid for the Rose Collection is decorated in a pink trellis inspired pattern to create a subtle, subliminal association with British rose gardens. A contrasting darker rose pink is used for the central panel and the box as well as the fine line detail on the lid, which is further enhanced by the incorporation of small crosses of gold foil.
When opened, products are held in smaller boxes inside, which are also wrapped in the dark rose pink. This has the effect of 'framing' the products, which again provides an effective reveal as part of the opening experience. The inside of the pack also features the bespoke Elemis wallpaper pattern, but this time in pink.
As well as the attention to detail in the choice of materials and decoration, the boxes offer a strong and robust construction which ensures that products are safely protected throughout the supply chain and on-shelf until they reach the consumer. Precision manufacturing ensures tight fitting lids without compromising on ease of opening. This combination of aesthetics and functionality helps to create a positive consumer experience from the point of sale to final opening.
All rights reserved except agreement written by Emballage Digest or mention of the magazine