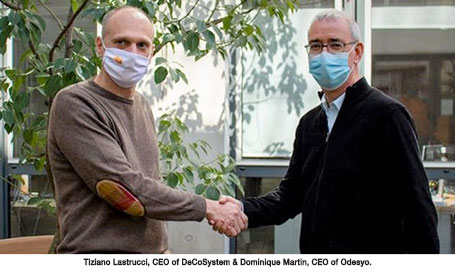 Print inspection: new partnership between DeCoSystem and Odesyo
publié le mercredi 14 avril 2021
DeCoSystem, based in Calenzano (Italy), Italian leader in the printing defect detection sector with more than 2000 installations worldwide and the French company Odesyo, specialized in color control in the graphic arts industry, announce a technology partnership to revolutionize inline print inspection.
This new collaboration, which relies on a system based on the Smijet® intelligent spectrophotometer, combined with DeCoSystem's Sentinel, allows for the first time to monitor and control print defects and color consistency simultaneously and automatically on 100% of production, at cruising speed throughout production, and with a single configuration.
Featuring a shared and intuitive interface, this integrated system is designed to simplify makeready and production by centralizing the flow of digital data, both incoming and outgoing, through a single panel. This intelligent, integrated system provides printers with an efficient all-in-one solution that meets the quality requirements of the label and packaging industry, for fast, waste-free makeready and high-quality production.
Thanks to the combination of the 100% Vision System and the intelligent spectrophotometer, for the first time, print defects and color uniformity can be monitored simultaneously and automatically on 100% of the production, at production speed, in one setup.
« Automated quality control is fundamental in the printing process today, » emphasizes DeCoSystem CEO Tiziano Lastrucci. « Sentinel, the innovative quality control system designed for 100% control of the printed web, is the answer printers have been waiting for. Using a matrix camera or a high-speed linear camera, which captures the entire web at high resolution, it is possible to view and control all the individual lines of the entire reel with a single image. »
This allows, as Lastrucci explains, the immediate detection of missing labels, glue marks, excess material, stains, poorly printed codes, incomplete text and much more, on any type of substrate.
Dominique Martin, CEO of Odesyo, explains: « This unique solution was born out of our customers' needs: faster and higher quality production in both small and large runs, reducing costs and waste. It greatly simplifies the production phase because it integrates everything into a single control interface that can be configured and monitored, as well as a centralized alarm system. This solution provides printers with visualization and traceability of content and color quality, resulting in continuous improvement of IEPs. »
Until now, color measurements were hardly optimal due to lack of repeatability and accuracy (RGB cameras) or limited automation. In addition, they only detected color variations through sample-based controls (color bars/indicators). By integrating Smijet® into this new print control process, color consistency will be measured automatically and continuously, directly within images and text for 100% of production.
All rights reserved except agreement written by Emballage Digest or mention of the magazine