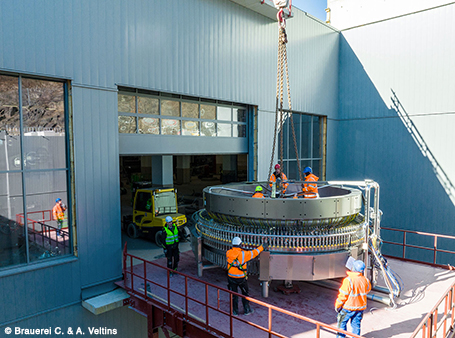 Returnable-glass lines: Veltins acquires two new machines from Krones
publié le lundi 11 avril 2022
Quite a lot has been happening on the premises of the C. & A. Veltins brewery in Grevenstein since 2020. A building with six levels is currently under construction. The equipment to be installed there includes two filling lines, and moving in machinery has already been in full swing since early March. Cranes are being used to lift the first Krones machines (weighing quite a few tons) for the new returnable-glass line up to Level 5, to a height of 15 metres.
This filling line is rated at 50,000 bottles per hour and will in the autumn of 2023 be followed by the installation of a second line able to produce up to 80,000 glass bottles an hour.
While the second line is intended to replace an existing line, the first one is required to raise flexibility because the brewery has over recent years been offering an increasingly diversified range of products and there has been growing demand from retailers for the Veltins, Grevensteiner and Pülleken beers – bucking the current trend on the beer market. "It's especially in the spring and summer months, the peak season for beer, that we need more leeway with filling capacities to respond more flexibly to market requirements. The new lines will have a noticeable positive effect on our operations," says Peter Peschmann, Technical Director at Brauerei C. & A. Veltins.
The first bottles are scheduled to come off the line quite soon, in mid-2022. The 50,000-bph line handles the brewery's entire bottle range, with a focus on Steinie bottles. It includes a LinaFlex pasteuriser for the beer-based mixed drinks and otherwise machines identical to those in the second line to be delivered in autumn 2023.
There is one special feature, though: In order to achieve the high speed of 80,000 bottles per hour, the second line features twin-machine arrangements, meaning two each of filler, labeller and packer, each of which can handle a minimum of 40,000 bottles per hour. The Lavatec D5 bottle washer is the only unit in this line able to handle up to 96,000 glass bottles an hour in one machine. It is thus among the biggest of its kind ever built by Krones.
Further record-size machines are those tasked with unpacking the empties and packing the filled bottles: The Linapac II installed in the 50,000-bph line, for example, is also one of the biggest in Krones' portfolio.
All rights reserved except agreement written by Emballage Digest or mention of the magazine